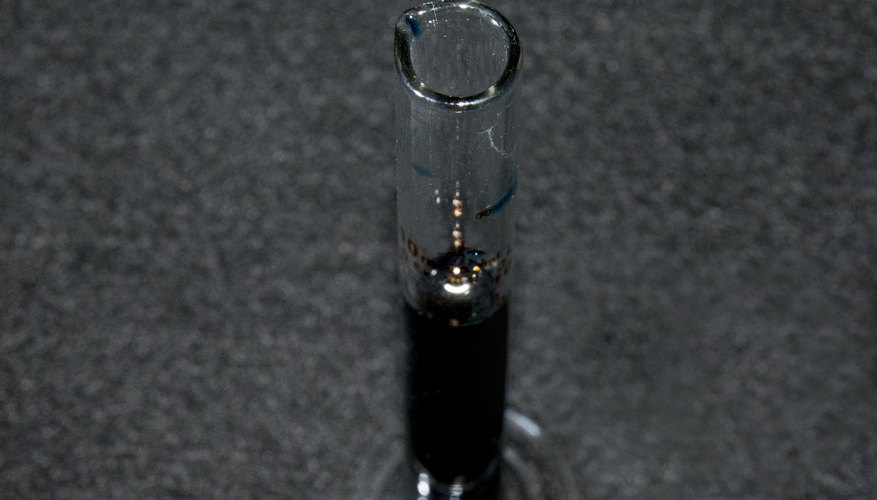 If you wanted to measure your cat, you might plop the animal on a scale to find its weight. Measuring shapeless, runny chocolate milk is a little trickier. Graduated cylinders are a tool used by scientists to find the volume -- the amount of space something occupies -- of liquids. Before you grab a cylinder for an experiment, consider your sample size. Your measurement will be more accurate if you use a small cylinder for a small sample.
Determine the size of the graduated cylinder. Along the length of the cylinder are numbers corresponding to broad, horizontal lines. The number at the top tells you the maximum volume the cylinder can hold. Graduated cylinders typically come in 10-, 25-, 50-, 100-, 500- and 1,000-milliliter sizes.
Calculate the value of the subgraduates. Between each number are a series of thin, short lines called subgraduates. To measure accurately, you need to know the value of these lines. To calculate, subtract a graduate number from the graduate above it and divide by the number of subgraduate lines in between. For instance, on a 25-milliliter cylinder, you would subtract 20 from 25 and get 5. If there were 10 subgraduate lines in between, you would divide by 10. Each subgraduate line would equal 0.5 milliliter.
Find the meniscus. When you pour water or another liquid into a graduated cylinder, the molecules adhere to the glass and form a slight curve known as the meniscus. Look for the meniscus at the top of the fluid sample.
Get at eye-level with the cylinder. Imagine a line running parallel to the bottom of the meniscus. If the line corresponds to a number, the volume is that number. If the line falls between numbers, use subgraduate values and estimate. For instance, if the bottom of the meniscus is at two subgraduate lines over the 20-milliliter mark on the 25-milliliter cylinder, the reading would be 21 milliliters.