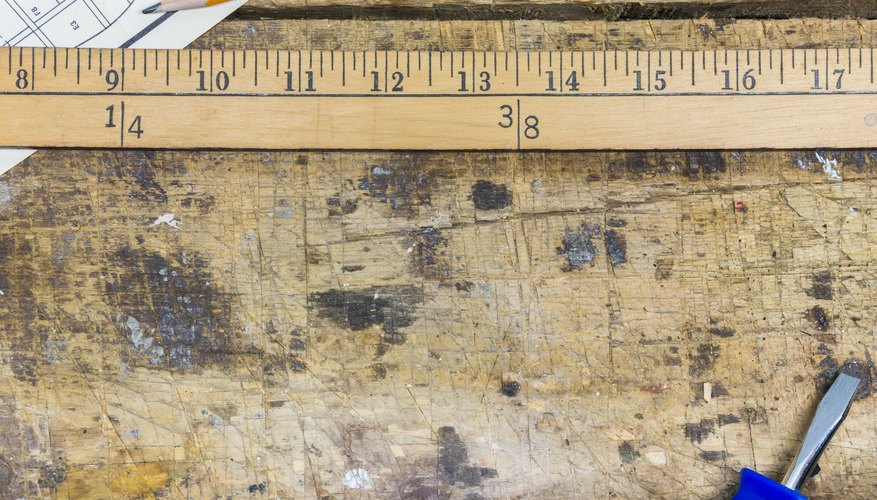 A meter stick has basically the same function as a yardstick, but, as the name suggests, the meter stick is a meter in length instead of a yard. Not surprisingly, the meter stick also is marked off using the metric system instead of inches and feet. If you can read a yardstick, you can read meter stick once you familiarize yourself with the measurements and terminology.
Know what you are looking at. A meter stick is a meter long, and it will be marked off in decimeters (there are 10 of these per meter), centimeters (10 of these per decimeter and 100 per meter) and millimeters (there are 10 of these per centimeter and 1,000 of these per meter). As the markings get thinner and closer together, they indicate smaller measurements. Usually decimeters are boldest, followed by centimeters and then millimeters. Decimeters and centimeters will be numbered, but millimeters likely will not.
Place the meter stick against the object you wish to measure. The end of the meter stick that has the lowest numbers (most start with 1 centimeter) should be your beginning point of measurement, and will be placed at the end of the object. Note how far up the object extends on the meter stick.
Read the measurement. You should first note how many decimeters are encompassed by the object and write that number down. Then count out the centimeters past the last decimeter. Write that number down. Finally count out the millimeters past the last centimeter. Write that number down. Then you will be able to read the measurement. For example, if the object you measured extended past the second decimeter, then to 3 centimeters and then to 7 millimeters, your final measurement will be 2 decimeters, 3 centimeters and 7 millimeters. You can write this as a decimal expression of a meter by writing it 0.237 meter.