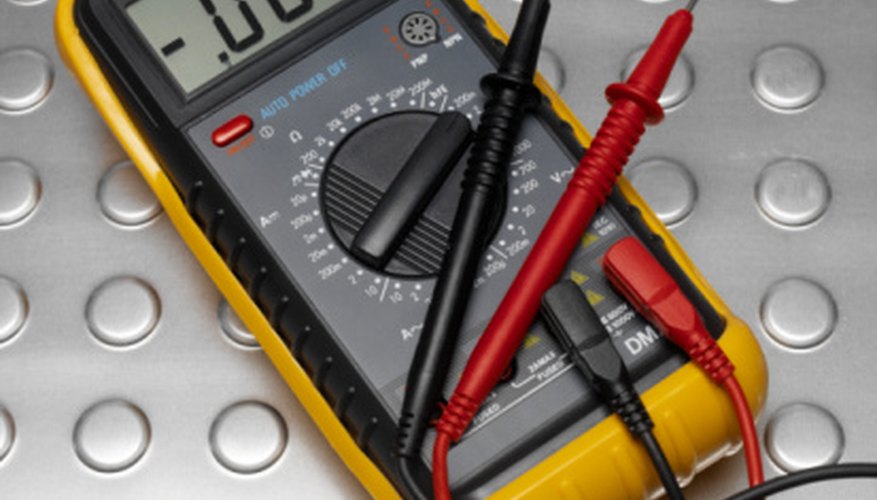 Polka Dot Images/Polka Dot/Getty Images
Multimeters are essential tools for anyone working on an electric circuit. Available in both digital and analogue, digital meters are far more user friendly and accurate. They enable you to measure voltages, current and resistance in a circuit, or in parts of a circuit. It is very important to know the abilities and limitations of your multimeter before using it in a live circuit to prevent it from getting damaged, as well as to help you obtain accurate readings.
Turn the round selector wheel to point towards volts (V) to measure the voltage. There will be a setting for both alternating current (AC), which may be identified with a sine wave symbol, and a setting for direct current (DC) which may be identified by a short horizontal line with a dashed line under it. Voltage is measured using the red (positive) and black (negative) test probes that plug into the face of the meter. There will also be a series of increasing voltage amounts, which you may select. Always select the voltage maximum that is one selection higher than you expect to test.
Turn the selector wheel and point it toward the mA, or A setting (milliamperes, amperes), to measure the current in a circuit. There will also be a setting for AC or DC, which must be set to the appropriate type to get an accurate reading. You use the probes to break the circuit you are testing to allow for the current to flow through the meter. As with the voltage selector, you must select the maximum current that is one level higher than the current you plan to test. Check and make note of the labeled highest current level that your meter is capable of measuring to prevent damaging it.
Turn the selector wheel and point it toward the omega symbol to measure resistance in ohms. As with both the voltage and current settings, set the wheel to the next highest level to the resistor being tested to get an accurate reading. You can use the two probes to measure resistance across a resistor, wire or capacitor.
Turn the selector wheel to the "Off" position when not in use to save the life of the battery inside the meter.
Tip
Test the meter for proper functionality by testing known voltage, current and resistor sources.
Warning
All meters have different maximum limitations to what they are able to measure; familiarize yourself with these before use.