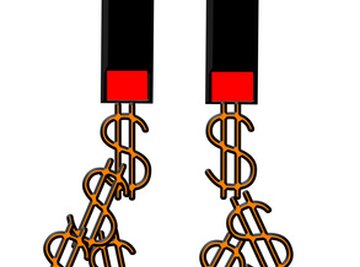 •••
magnet attracting dollar signs image by Steve Johnson from Fotolia.com
A horseshoe magnet attracts iron and metal objects. Magnets produce a magnetic field and, over time, may start to lose their strength. There are a few ways you can charge a horseshoe magnet to restore its strength.
Get an electromagnetic charger. This type of charger is made of metal coils and an iron base. The metal coils produce a magnetic field that is able to transfer magnetic energy to the weak magnet. You can either purchase an electromagnetic charger or a kit from which you can assemble your own magnet charger. These are mostly available at craft supply stores.

Wrap a few strips of paper around the charger's coils. To induce the magnetic field, connect the wire that is between the coils.

Place the horseshoe magnet on top of the charger's coils. Make sure the magnet's poles are leaning in opposite directions from the charger's poles; the magnet's north pole should be over the charger's south pole and vice versa.

Charge the magnet for 1 minute. While it charges, open and close the switch that is between the coils of the charger. Do this three to four times for 4 seconds each.

Remove the magnet from the charger immediately.

Disconnect the switch that is between the charger's coils.

Recharge whenever you find the magnet's strength fading.

Horseshoe magnet
Electromagnetic charger
Paper strips
About the Author
Joanne Cichetti has written articles and Web content professionally since 2009, focusing primarily on health and lifestyle. In order to further pursue her writing career professionally, Cichetti inducted herself in the Long Ridge Writers Group, and she looks forward to having a novel published under their guidance.
Photo Credits
magnet attracting dollar signs image by Steve Johnson from Fotolia.com