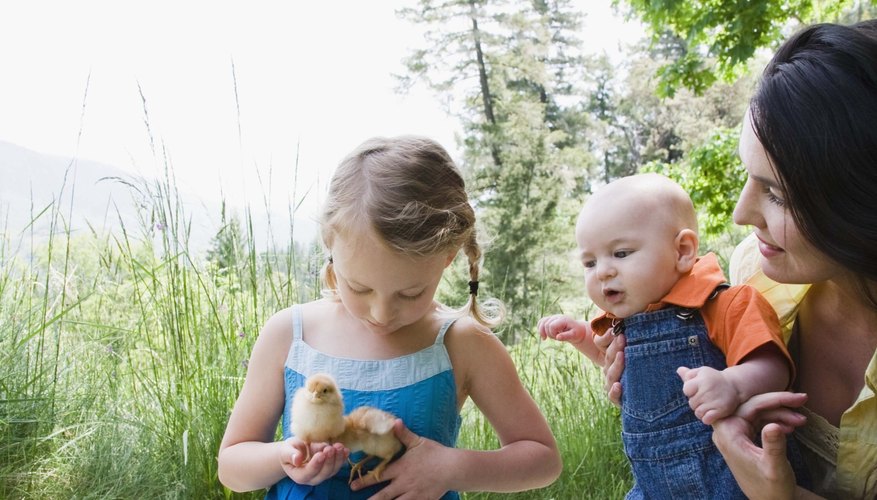 Jupiterimages/Brand X Pictures/Getty Images
Recombinant offspring are those children whose genes contain a non-parental allele combination. If one parent with the allele combination Aa Bb mated with a parent with the allele combination aa bb, for instance, then a child with the allele combination AA bb would be recombinant because neither allele group is directly inherited from either parent. This anomaly results when genes on the same chromosome are so far apart from one another that their alleles get crossed over during meiosis. Thus, the key to finding recombinant offspring lies in looking for allele pairs that aren't directly inherited. Once you've done that, you can calculate recombination offspring frequency.
Identify the recombinant offspring by looking for allele combinations not directly inherited from the parents. Given parents with combination YyLl and yyll and the offspring YyLl: 400, Yyll: 100, yyLl: 100 and yyll: 400, the recombinant offspring are those with the allele combinations Yyll and yyLl.

Add the recombinant offspring and parental offspring separately. Given the example, there are 100 + 100 or 200 recombinant offspring and 400 + 400 or 800 parental offspring.

Divide the total number of recombinant offspring by the number of total offspring. Given 200 recombinant offspring and 800 parental offspring, you would divide 200 by 1000 to get .2, or a 20 percent recombinant offspring frequency.