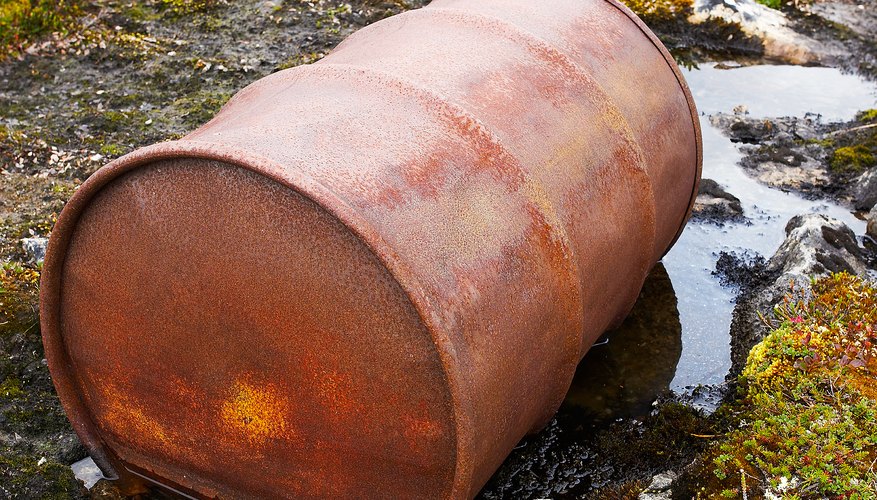 Jupiterimages/Photos.com/Getty Images
Pollution is the introduction of harmful substances into the environment. These substances can take the form of solids, liquids or gases. Pollutants have adverse effects on both flora and fauna, as well as on non-living things. Effluents and discharges from factories and industries, when directed into water, can lead to loss of aquatic life. Since most pollution is caused by humans, humans are the only ones who can prevent pollution and mitigate its effects.
Reduce Impervious Surfaces
Impervious surfaces, such as tarmac roads, standard asphalt and concrete, do not permit water to soak into the ground. Instead, water falling on these surfaces flows off of them into nearby streams. Along the way, this water might pick up pollutants, such as spilled oil and gasoline, which are then discharged into the streams. Developers and homeowners alike can reduce solid surfaces on their properties. Permeable surfaces, such as gravel pavers and grass pavers permit water to seep into the soil. This reduces the amount of water that finds its way into streams. Other methods include detention ponds and rainwater collection systems on roofs.
Recycle
Inorganic substances, such as plastics, glassware, oil and porcelain, are not biodegradable and require polluting processes to manufacture. When oil flows into waterways, it prevents oxygen from the air above from dissolving into the water. Aquatic life will not thrive, and may even die, in oxygen-deprived water. These are substances that can be recycled or reused. Oils for instance, are recycled into different grades of oil, which have different applications. When you recycle a ton of aluminum, you prevent production of 3,290 pounds of red mud and 2,900 pounds of carbon dioxide gas and other pollutants.
Drive Wise
You can adopt driving and car maintenance habits that reduce air pollution. In the summertime, when temperatures are high, fill gas tanks in the evenings when the temperatures are cooler to reduce the amount of gasoline lost to the atmosphere by evaporation. Mass transport, such as trains and buses, in zones of high population can go a long way in reducing air pollution. You can report smoking vehicles to relevant air agencies to reduce air pollution. You could also take a walk or ride a bike instead of driving. You save a pound of pollution for every 25 miles you don't drive.
Plant Vegetation
Excessive carbon dioxide in the atmosphere is considered a cause of global warming and has been labeled a pollutant by the U.S. Environmental Protection Agency. Planting trees helps absorb carbon dioxide and other harmful gases. On top of absorbing carbon dioxide, trees help settle out and trap dust, smoke and ash particles. These particle pollutants contribute to respiratory illnesses, such as asthma. An acre of trees produces sufficient oxygen per acre to provide for 18 people. David Nowak and Robert Hoehn, alongside Hirabayashi and Allisone Bodine, reported that trees they studied removed particulate matter ranging from 4.7 to 64.5 metric tons apiece annually, depending on location.