H
Periodic Table
He
Li
Be
of the Elements
B
C
N
O
F
Ne
Na
Mg
mouse/touch for more information
Al
Si
P
S
Cl
Ar
K
Ca
Sc
Ti
V
Cr
Mn
Fe
Co
Ni
Cu
Zn
Ga
Ge
As
Se
Br
Kr
Rb
Sr
Y
Zr
Nb
Mo
Tc
Ru
Rh
Pd
Ag
Cd
In
Sn
Sb
Te
I
Xe
Cs
Ba
Hf
Ta
W
Re
Os
Ir
Pt
Au
Hg
Ti
Pb
Bi
Po
At
Rn
Fr
Ra
Rf
Db
Sg
Bh
Hs
Mt
Ds
Rg
Cn
Uut
Uuq
UuP
Lv
Uus
Uuo
La
Ce
Pr

59

Praseodymium

140.90765

Nd
Pm
Sm
Eu
Gd
Tb
Dy
Ho
Er
Tm
Yb
Lu
Ac
Th
Pa
U
Np
Pu
Am
Cm
Bk
Cf
Es
Fm
Md
No
Lr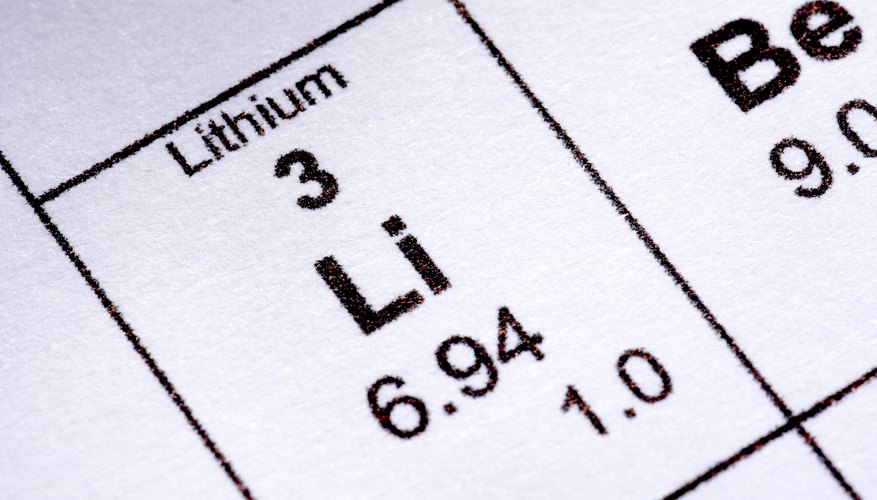 Alkali metals are white, highly reactive substances cut easily by a knife. All six are found in Group I of the periodic table, which lists elements in order of increasing atomic number. Atomic number is the number of protons found in the nucleus of an atom. Neutrons also reside in the nucleus, but have little effect on chemical reactivity. The alkali metals in increasing atomic number, are lithium, sodium, potassium, rubidium, cesium and francium.
Electrons
The number of electrons in an atom also equals the atomic number. It is this number that identifies each element, imparting to it its unique chemical properties. Due to the laws of quantum chemistry, electrons occur in pairs whenever possible. Alkali metals always have one odd electron furthest from the nucleus. It is the electron involved in chemical reactivity.
Radius and Reactivity
As atomic number increases, so does an atom's radius. The outermost electron is held less tightly and escapes more readily. Therefore, the alkali metal with the higher number is more chemically reactive. This makes francium the most reactive of the alkali metals.