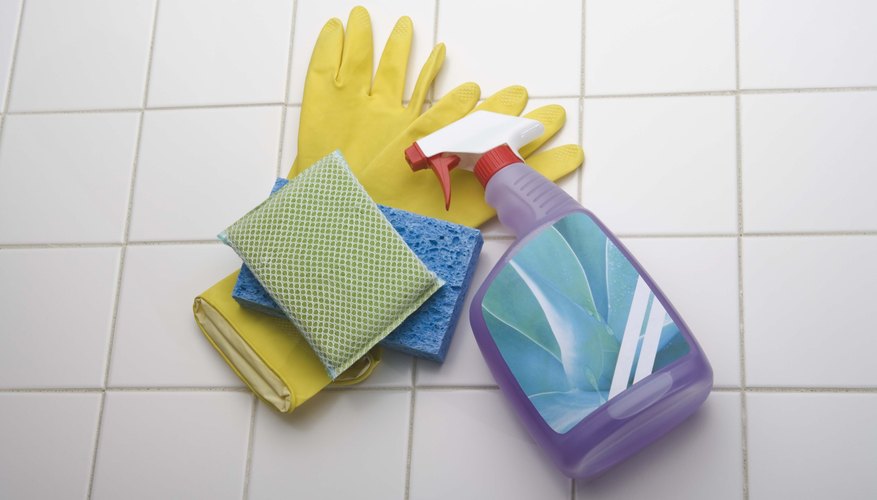 Acetone is a naturally occurring organic compound that is also produced synthetically for use as a solvent. Other commercial and industrial uses include the manufacture of plastics, drugs, artificial fibers and explosives. Acetone is used to make cosmetics and nail polish remover, too. Because it evaporates readily, the acetone itself is usually not a problem if it spills, but other residues that are mixed in with it may be hard to clean up once the acetone vaporizes. Because of this, it is usually best to clean up any spilled acetone-based products before the acetone evaporates.
Mix 1/4 teaspoon of dish-washing liquid with 1 cup of lukewarm water. Do not use a stronger solution, as it might leave a soap film residue. Do not use laundry detergent, since it may contain bleach that might damage or discolor the surface you are cleaning.
Apply some of the dish-washing liquid mixture with a white cloth to the surface covered by the acetone solution. If the acetone has spilled onto carpet, work the cleaning mixture in gently but do not rub it. Allow the mixture to remain on the spill for a few minutes.
Blot the liquid up with the white cloth. Continue to blot with the cloth as long as it continues to absorb some of the acetone solution. You may have to repeat steps until the acetone solution is completely removed.
Rinse the area with cold water. Blot with a dry cloth to remove all moisture. Repeat if needed to remove all the residue.
Tip
Pure reagent acetone leaves much less residue than paint thinner-grade acetone, but it's also more expensive.
Warning
Acetone may dissolve or damage some plastics, so remove it quickly if it spills onto a plastic surface.
Acetone evaporates very quickly, but avoid getting it on your hands. Long-term exposure can be harmful.