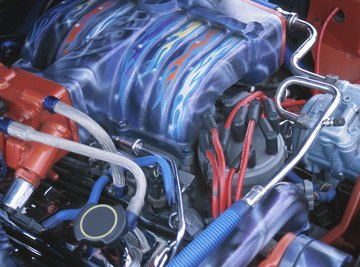 •••
Hemera Technologies/AbleStock.com/Getty Images
Many people might not see an obvious link between cellular respiration and the combustion of gasoline. After all, internal combustion involves the ignition of a volatile fluid. However, combustion and respiration are remarkably similar in that in both contexts one fuel source is broken down in a way that releases its energy in a form that is usable.
Combustion: Cellular-Style
Just as an automobile burns gasoline so it can move, living cells burn fuel to provide energy to the body. Instead of burning octane, however, biological organisms do this by oxidizing food, such as sugars, fats and proteins. For example, automobiles burn fuel in this way: octane + oxygen = water + carbon dioxide + energy, while organisms process food like this: sugar + oxygen = carbon dioxide + energy.
References
About the Author
Christopher Cascio is a memoirist and holds a Master of Fine Arts in creative writing and literature from Southampton Arts at Stony Brook Southampton, and a Bachelor of Arts in English with an emphasis in the rhetoric of fiction from Pennsylvania State University. His literary work has appeared in "The Southampton Review," "Feathertale," "Kalliope" and "The Rose and Thorn Journal."
Photo Credits
Hemera Technologies/AbleStock.com/Getty Images