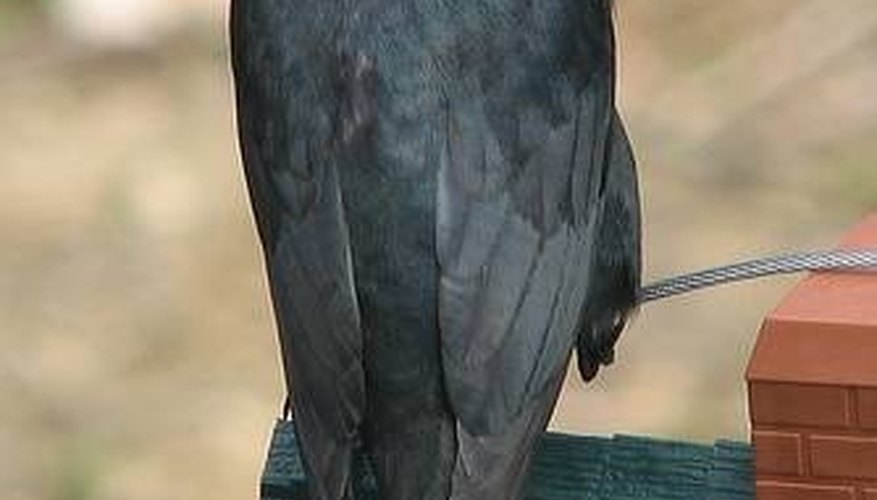 Cowbirds are found throughout most of North America. Male cowbirds have an iridescent black body and brown head; female cowbirds are gray and smaller than males. According to Stanford University, only two species are found in North America: Brown-headed cowbirds and Bronzed cowbirds. The birds are considered parasites and are very unpopular with many property owners.
Remove any food sources for cowbirds. Cowbirds are fairly large, so using hanging feeders with small perches and screens will prevent cowbirds from stealing food from your feeder. According to Cornell University, cowbirds prefer to feed on the ground, and cleaning up food and seed spills will help you get rid of cowbirds.
Reduce the insect population on your property. Cowbirds like to snack on insects, and keeping your insect population under control will help control cowbirds.
Avoid using cracked corn, millet and black oil sunflower seeds in bird feeders on your property. According to Wild Birds Unlimited, cowbirds are attracted to the smell of these foods.
Keep your lawn and trees trimmed as short as possible to deter cowbirds. Cowbirds are attracted to overgrown brush and thick trees, according to Cornell University.
Discourage other bird species from nesting on your property. Cowbirds lay their eggs in the nests of other birds and will often hang out in an area waiting for the right time to make a deposit. The Nova Scotia Museum of Natural History states that cowbirds are a much greater problem in areas with a large concentration of nests belonging to other birds.
Warning
Cowbirds are native birds and are protected under the Migratory Bird Treaty Act. This means you cannot remove their eggs from nests without a permit.