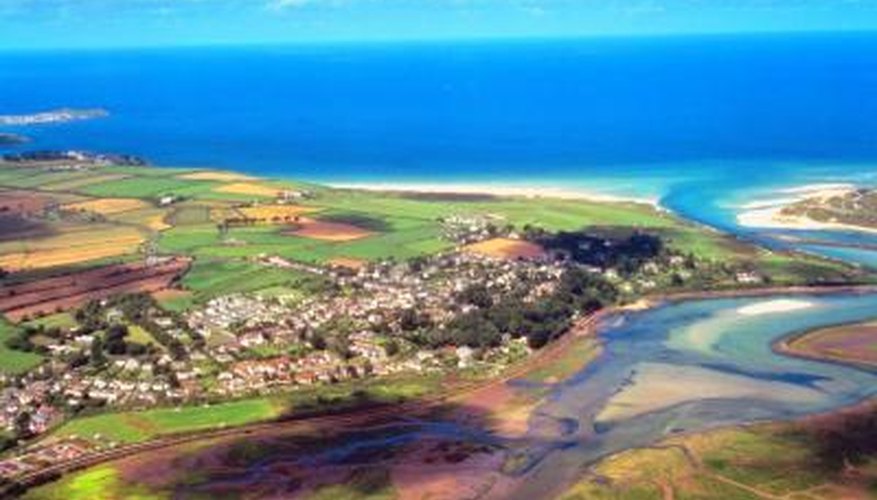 River deltas are little streams that branch out from the mouth of the river into a sea, lake or ocean, giving it the appearance of an uprooted tree. Many of the world's biggest rivers also have river delta formations, including the Nile and Mississippi rivers. River deltas are also a rich source of clay, gravel and sand deposits.
Origin
The word "delta" comes from the Greek letter delta. Herodotus, a Greek historian nicknamed "the father of history," first used the word delta to describe the delta of the Nile River, which he thought looked deltoid-shaped.
Types
According to AmericaSwetlandResources.com, types of river deltas include arucuate deltas, bird-foot deltas, cuspate deltas and estuarine deltas. The Mississippi River Delta is an example of a bird-foot delta due to the bird-foot shape of the delta.
Location
River deltas are found anywhere where a river flows into shallower water. River deltas are located all around the world except for the North and South Pole. Some examples of famous river deltas include the Nile River delta, the Tiber River delta in Italy and the Seine River delta in France.
Formation
Deltas form when the mouth of the river enters the sea or ocean, depositing gravel, sand, clay and silt around the mouth. This causes the deposits to build in layers around the river's mouth, building a platform called an alluvium. The river and ocean water then overflow the alluvium and disperse into different steam-like branches, called distributaries, creating the branch-like look of a delta.
Benefits
According to Maine.gov, deltas are beneficial because they help create large areas of land to build upon. Larger deltas have flat or gently sloping areas of land with sand or gravel that is easier to excavate, making it a low-risk area for landslides. Deltas are also ample sources of ground water and provide agricultural land to grow food, such as blueberries.