•••
MoMo Productions/Stone/GettyImages
​Sciencing may earn compensation through affiliate links in this article.​
Having your own robot is one of those child-like dreams that never really goes away. Sure, as a kid you might have spent longer daydreaming about what you could do with a robot, but as a teenager or even an adult, there's still something about having a programmable robot friend that brings back the same spark of imagination. The good news is that regardless of how old you are, there are plenty of robotics kits that set out to balance learning and play so people of all ages can pick up the basics of robotics and coding. Here are some of the best options out there for anyone – from kindergarten-aged kids to teens.
Pai Technology Botzees – Ages 4+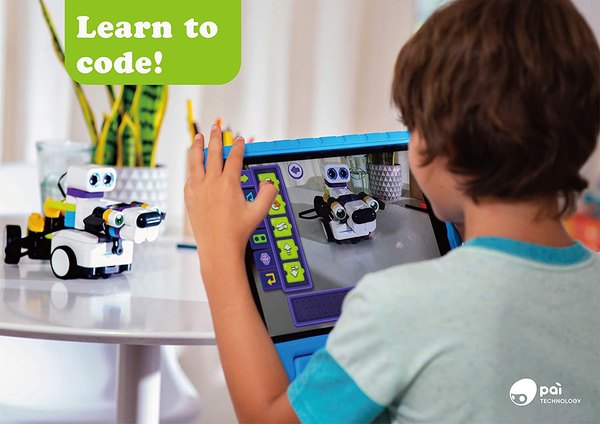 •••
Pai Technology (via Amazon)
Pai Technology's Botzees robotics kits combine building and coding in a simple, kid-friendly environment. The kit comes with 130 pieces – including two motors and a sensor – which can be used to create six pre-designed robots, or combined in any way to create your own. The pieces are bigger than Lego bricks, which make them easier for younger kids to build with, and there are animated instructions on the Botzees app, as well as 30 interactive puzzles that teach key concepts in coding.
The app and the interactive puzzles contain the bulk of the educational content in the kit. Kids learn basic concepts in coding through the in-game narrative; it incorporates challenges such as helping the robots search for parts and solve puzzles, making use of augmented reality (AR) throughout. The coding uses the "block" format, which helps teach the structure and syntax of code without going into excessive detail.
Wonder Workshop Dash – Ages 6+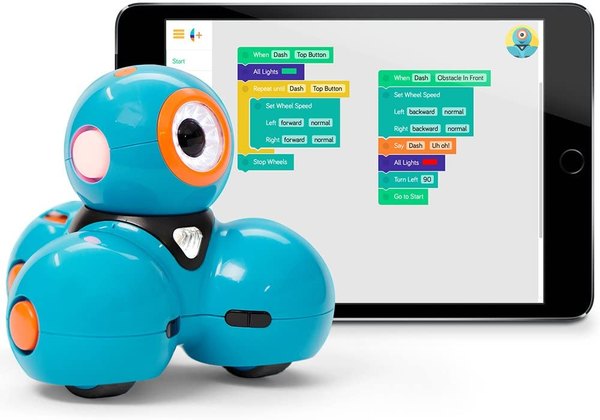 •••
Wonder Workshop (via Amazon)
Dash from Wonder Workshop puts the focus on coding more than some of the other robot kits out there, with the robot coming pre-made, charged and ready-to-go. It comes with building brick connectors, so you can use your own Legos to transform the robot into whatever you like, as well as plenty of optional accessories. The most important part, though, is the compatibility with five different free apps, which build up your kids' coding knowledge gradually ; it introduces them to what Dash can do.
The Go App introduces the lights, sounds, sensors and capabilities of the robot, while the Path App introduces some key concepts of coding, such as sequencing with no need to even read, and the Wonder App adds some complexity through a picture-based coding language. Finally, the Blocky App introduces more advanced concepts, including loops, conditionals and events.
Makeblock Codey Rocky – Ages 6+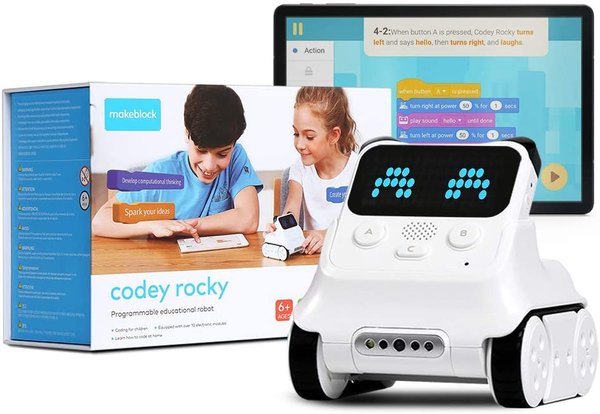 •••
Makeblock (via Amazon)
Codey Rocky from Makeblock is a pre-made programmable robot that focuses on coding but gives plenty of opportunity for general play too. The robot has two motors, a 6-axis gyroscope, a light sensor, range sensor, a color sensor, on-board Wi-Fi, Bluetooth and an IR transmitter. The 16 × 8 LED display gives Codey Rocky the ability to show facial expressions and it also supports some basic on-board games such as snake. Most of the possibilities for the robot are dependent on the free Makeblock app, though.
The app gives kids access to the core coding features of the robot, in varying levels of difficulty so your kid can play regardless of their level of knowledge. At the most basic, you can simply press buttons to use the app as a remote control, but it progresses to drawing out a path for Codey to follow, and later to block-based coding. Plus, it substantially expands the possible age range of the user by offering python support, too.
Lego Star Wars Boost Droid Commander – Ages 8+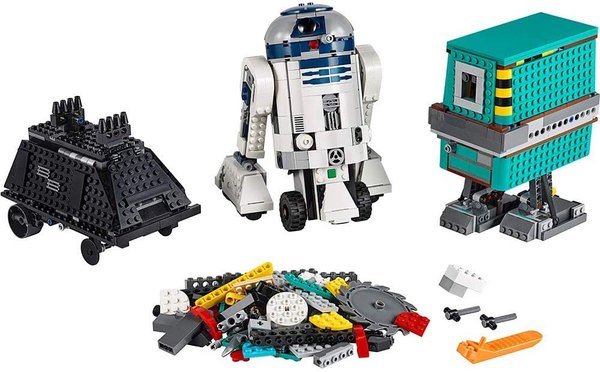 The Boost Droid Commander kit from Lego sets out to teach creative thinking and problem solving through a programmable and buildable robot kit, featuring R2-D2 and two other droids (Gonk Droid and Mouse Droid) from the Star Wars universe. The kit comes with a total of 1,177 pieces and the Lego Boost Star Wars app leads Star Wars fans through the building process. It also includes the "Move Hub," an easily installable, Bluetooth-controlled attachment that lets you control the droids using the app as a remote control.
The app also contains over 40 missions for your kids to complete with the droids, all based around a drag-and-drop coding language. The missions not only introduce key concepts in coding, they also encourage creative problem solving and critical thinking, complete with sounds, music, locations and characters from Episodes I to VI of the movies. The force will be with your kids and this robotic kit.
Sphero RVR – Ages 8+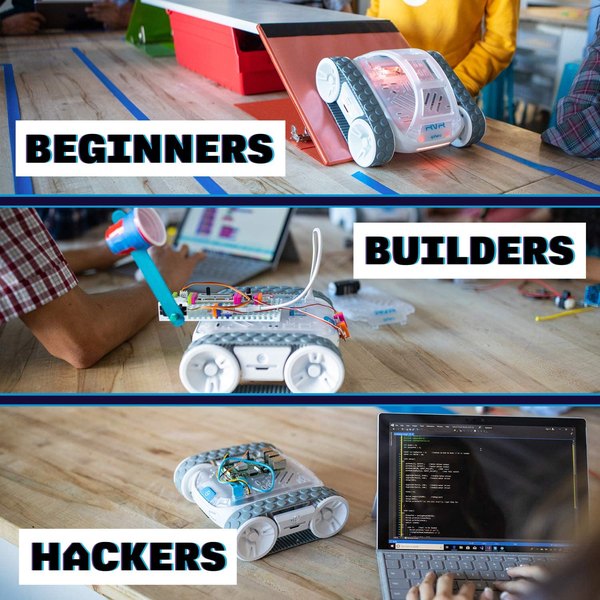 The Sphero RVR is another programmable robot with the focus on coding, but enough flexibility and progression to keep people interested from young ages well into their teens. You can easily enjoy the basics right out of the box, with the "Draw & Drive" mode working through the Sphero Edu app allowing you to simply draw out a path for Sphero to follow. With the all-terrain treads and high torque, this is tons of fun on its own, but you can go much further.
It's expandable through a 4-pin expansion port (and compatible with Arduino, Raspberry Pi and more), which opens up tons of possibilities, and the app features support for scratch blocks and even JavaScript programming.
Lego Mindstorms Robot Inventor Building Set – Ages 10+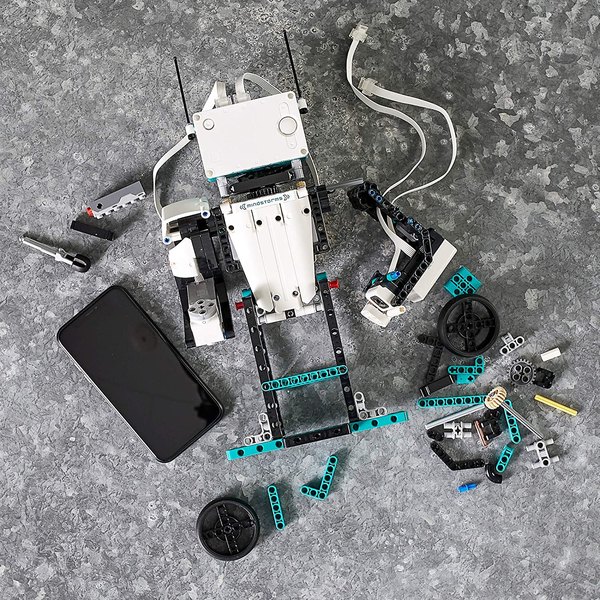 Lego Mindstorms make some of the most widely-loved robotics kits out there, and the Robot Inventor Building Set offers a great introduction to both robotics and coding. The kit contains 949 pieces, which can be used to make five robots (including a missile-firing biped and a multi-functional vehicle) and pairs with the Robot Inventor app to offer over 50 activities intended to both teach the basics of coding and provide creative challenges for kids and teens to complete.
The coding is Scratch-based, so it's a drag-and-drop system that teaches the structure and functionality of code without becoming too detailed for younger kids. That said, with the activities and complex builds (including a color sensor, distance sensor, motors and an intelligent hub) there is plenty for older teens too.
References
About the Author
Lee Johnson is a freelance writer and science enthusiast, with a passion for distilling complex concepts into simple, digestible language. He's written about science for several websites including eHow UK and WiseGeek, mainly covering physics and astronomy. He was also a science blogger for Elements Behavioral Health's blog network for five years. He studied physics at the Open University and graduated in 2018.