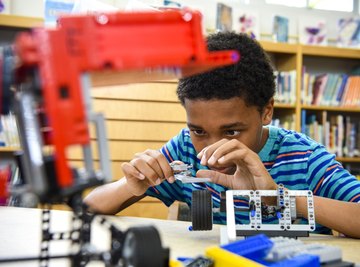 •••
Stephen Simpson Inc/ Getty Images
​Sciencing may earn compensation through affiliate links in this article.​
With the start-up costs and steep learning curve, getting kids interested in electronics and coding can be challenging. But in the modern world, both are increasingly important skills, and thankfully there are options for giving your kid a head-start in a way that won't ​feel​ like a series of academic lessons. The many DIY robotics kits on the market incorporate some key lessons in both electronics and coding into robot toys that are enjoyable to play with, even for kids not intending to learn anything. The options out there aren't just for older kids, either, with plenty of options that either scale with your child's level of knowledge or explicitly cater to younger builders and coders.
With these AI-focused kits, your kids learning and fun potential will be anything but artificial.
Learning Resources Botley 2.0
•••
Learning Resources (via Amazon)
Botley 2.0 builds on the features of the original model and notably offers an intuitive, screen-free coding platform perfect for kids ages 5 and up, making it one of the best options out there to get younger kids started with coding. The kit comes with a 77-piece activity kit, including obstacles, code cards, double-sided tiles, detachable robot arms, a remote programmer and an activity guide that leads kids through some coding challenges.
Botley can accept a sequence of up to 150 commands (you can use the remote control to queue them up), which will help teach your kids the core structure of code and how operations are performed in sequence, with the option to use basic logic like "if/then" statements and follow command loops as they get more advanced. It also has additional features like object detection and night vision to give kids more options for play.
Thames & Kosmos Robotics: Smart Machines
•••
Thames & Kosmos (via Amazon)
Thames & Kosmos offer many robotics kits, but the Smart Machines kit offers a great balance of building and coding to give a thorough and enjoyable introduction to robotics. The kit comes with over 230 pieces, which can be used to make eight different robot models, including a bipedal humanoid robot, a stag beetle, a crocodile and a spy-bot that streams video back to your smartphone or tablet. All the robots make use of an ultrasonic sensor, which works like a sonar system to enable them to detect objects in their path.
The Smart Machines kit works alongside a free app, which uses a kid-friendly visual programming language to introduce them to key concepts and gives them the ability to program in responses to data from the ultrasonic sensor. The kit also comes with a 64-page illustrated manual to teach kids the basics of how to both assemble and program the robots, as well as teaching them a bit about real-world robotics. It's aimed at ages 8 and up.
Modular Robotics Cubelets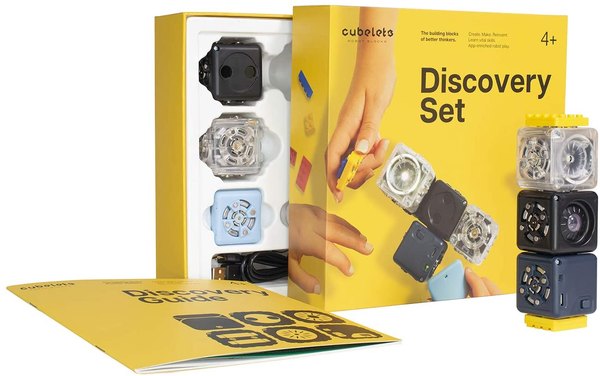 •••
Modular Robotics (via Amazon)
Modular Robotics' Cubelets sets are unique robot kits because they're essentially like a high-tech version of building blocks. The cubelets each have special functions, but they attach together magnetically and kids can create robots that perform different tasks based on how they put them together. The aim is to create a tactile coding system, so kids learn how putting together the same pieces in different orders changes the behavior of the finished robot. However, the kit also comes with a Bluetooth hat, which you can use alongside a smartphone app to open up more possibilities and tinker with the software inside the cubes.
The kit is intended for kids aged 4 and up, with basic lessons in sequencing and robotics for younger kids, more complex lessons in computational thinking for kids aged 7 and up and going even further for kids aged 10 and over, introducing the basics of computer science, parallel programming and networks.
Lego Mindstorms EV3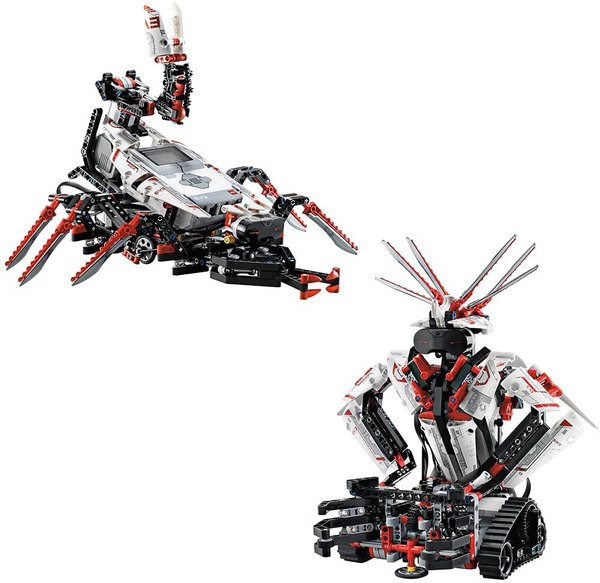 Lego Mindstorms were some of the original coding robot kits for kids, and even with tons more options, they're still one of the best options out there to teach kids key concepts in both robotics and coding. The EV3 kit comes with 601 pieces, including a central brick, three servo motors and sensors for color, touch and infrared signals (from the included remote control). You can make a total of 17 robot designs with the kit, including Ev3Storm (which stands on two legs and has a bazooka and tri-blade), Spik3r (a scorpion-like robot) and Gripper (a robot with powerful grippers that enables it to pick things up).
Kids can use the free EV3 Programmer App to control their robots using an intuitive drag-and-drop coding language, and there's also software for desktop computers if your kids want to take things further. These tools enable kids to make their robots walk, talk, grab objects, shoot targets and much more, incorporating important coding lessons into their play. It's recommended for kids ages 10 to 15.
Sphero RVR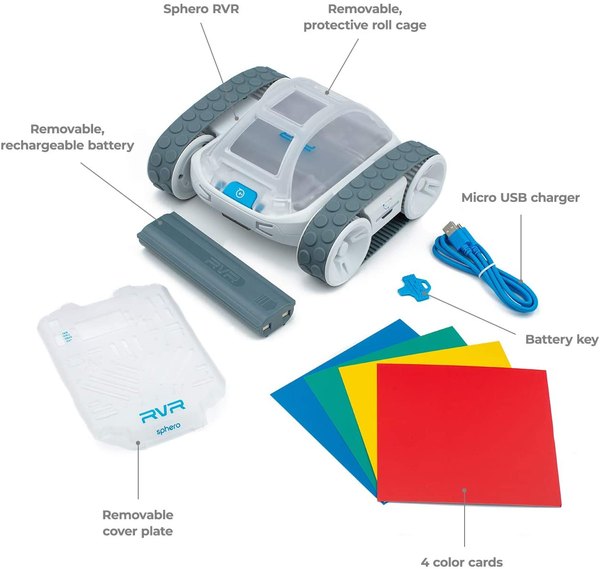 Sphero has an impressive range of robot toys that teach important concepts in coding, but the RVR offers a fun, remote control car type robot that doesn't require assembly and lets kids get right into coding and playing. The car has all-terrain treads, color, light and IR sensors, as well as an accelerometer and gyroscope. The basic setup of the RVR gives kids enough to get started with basic coding and play with the robot, but it also has a 4-pin UART expansion port that can be used to connect to a Raspberry Pi, Arduino, micro:bit or Sphero's littleBits, adding a staggering range of possibilities.
The coding system is also very adaptable. It runs through the Sphero Edu app and can work at varying levels of difficulty, starting with a simple "Draw & Drive" system where you simply draw a path for the robot to follow, building up to Scratch coding blocks and even JavaScript as kids get more comfortable with the key concepts. The recommended age is 8 and up, but it has a lot of potential even for older kids thanks to the JavaScript support.
References
About the Author
Lee Johnson is a freelance writer and science enthusiast, with a passion for distilling complex concepts into simple, digestible language. He's written about science for several websites including eHow UK and WiseGeek, mainly covering physics and astronomy. He was also a science blogger for Elements Behavioral Health's blog network for five years. He studied physics at the Open University and graduated in 2018.