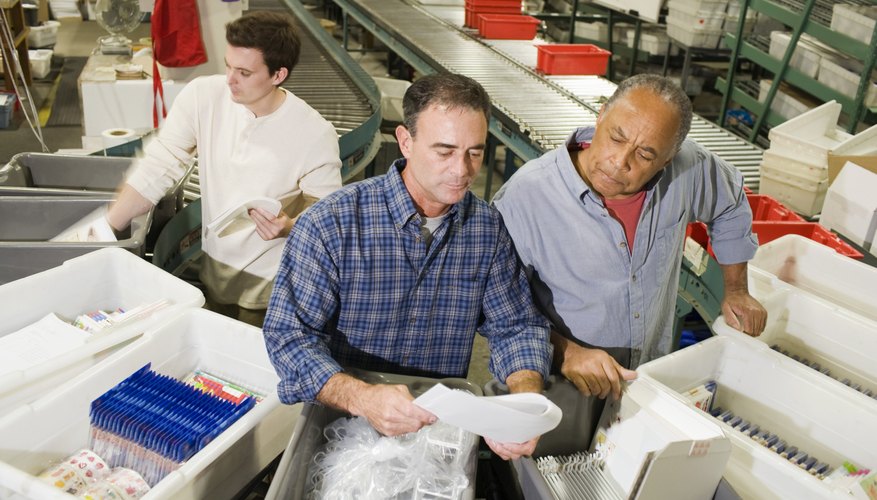 Jupiterimages/Creatas/Getty Images
Ribosomes make the protein machines that do the day-to-day work within cells, so ribosomes are a crucial part of healthy cells and healthy organs. Homeostasis is the process in which an organism or a cell maintains a balance of things such as energy levels, water levels and temperature. This process is called physiological, or organismal, homeostasis when it occurs in multicellular organisms, but individual cells also maintain what is called cellular homeostasis. In addition to being the machines that keep a single cell healthy, proteins are also hormones that the brain releases when it talks to other organs to maintain homeostasis. At every level of maintaining balance, ribosomes are needed to produce the proteins that keep cells and organs in order.
What are Ribosomes?
Ribosomes are machines that latch onto molecules of messenger RNA (mRNA), read them, and then use that information to link amino acids into proteins. An mRNA molecule is a copy of a gene's DNA sequence. Amino acids are the building blocks that can be linked together into a chain that becomes a protein. A ribosome has two parts, which are like hotdog buns. The two units of a ribosome sandwich an mRNA molecule like a hotdog and then start reading the information in that molecule. Ribosomes then translate the information in the mRNA molecule into a protein by linking the correct amino acid buildings blocks together to build a protein chain.
Preparing for Mitosis
A cell will not copy its DNA in preparation for cell division unless it knows that it has enough ribosomes to make new proteins. The cell cycle has two phases. The first phase is interphase, which is the preparation phase before cell division happens. The second phase is mitosis, which is the division process. Before dividing, a cell must make a copy of its entire DNA. This copying process happens during interphase. Because copying DNA requires so many proteins and so much energy, a cell will not start the copying process until it has produced enough ribosomes. Thus, the number of ribosomes in a cell is a form of regulating cellular homeostasis.
Peptide Hormone Production
Homeostasis is maintained by hormones that the brain secretes into the bloodstream, many of which are proteins that are made by ribosomes. Peptide hormones are hormones that are made of proteins, which need to be cut into smaller pieces before they become active. This means that one peptide hormone can actually be three peptide hormones in one: the full-length hormone and the two shorter hormones that result after the full-length one is cut. Since peptide hormones are proteins, they are made by ribosomes in cells. Thus, ribosomes are involved in maintaining an organism's homeostasis even though ribosomes are stuck inside cells. Ribosomes make the hormones that the brain uses to talk to other organs.
Mitochondrial Ribosomes
Mutations in mitochondrial ribosome genes can result in human diseases. Mitochondria are bean-shaped organelles inside a person's cells. Mitochondria are the powerhouses of the cell, meaning they produce energy molecules that power the protein machines inside the cell. Mitochondria contain their own DNA and make their own ribosomes, which are different from the ribosomes of the cell. A mutation in a ribosome gene can cause a person to have an abnormal brain and an enlarged heart. Thus, healthy ribosomes are important for healthy cells, which form healthy organs.