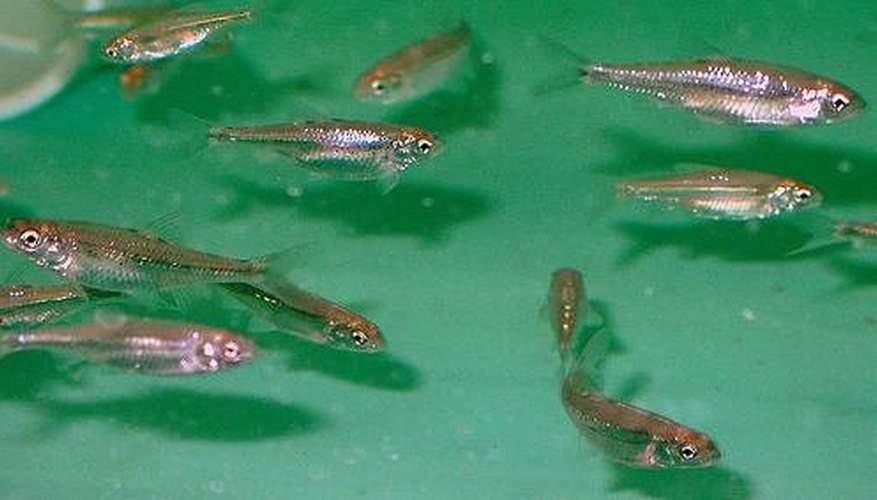 http://www.flickr.com/photos/casaverdesol/68878960/
If you've ever been fishing and used minnows as bait, you know it's not that uncommon to have left over minnows. One way to keep those minnows from spoiling and being unusable as bait is to salt them. Salting your minnows helps to preserve them, and that makes it possible for you to use them on your next fishing trip.
Put the minnows and the water they came in into a plastic bucket if they aren't already there.
Add 1/2 cup of canning salt to the bucket per one gallon of water. This makes a brine solution.
Soak the minnows in this brine solution for one hour. Make sure you keep both the water and the minnows cold.
Cover your large piece of cardboard with paper towels.
Put the minnows on the paper towels. Don't throw away the brine solution; you'll use it later on in this process.
Pat the minnows as dry as possible with another paper towel.
Add 2 cups of canning salt to the other plastic pail.
Take your minnows one at a time. Roll them in the canning salt in the second pail. When you're done, lay them next to each other. Add more canning salt as necessary.
Leave the minnows in the second pail. If they are small minnows, two to three hours is sufficient. If they are larger minnows, five to six hours is best. Be certain to keep the pail cold.
Once the time period is up for whichever size of minnows you have, remove the minnows from the second pail. Rinse them in the pail of brine water.
Put the minnows on paper towels again with the cardboard beneath them to help soak up water. Let them air dry for an hour.
Put a paper towel in each plastic bag you are going to put the salted minnows in to absorb any leftover moisture. Then add the minnows. Seal the bags; freeze them.
Tip
Add an extra piece of cardboard beneath the paper towels you're drying the minnows upon if they are larger. There may be more moisture to soak up, and this will help.
Warning
Don't use tap water with chlorine to make the brine water as the canning salt. Chlorine substances can react to each other and the minnows adversely.
Related Sciencing Articles