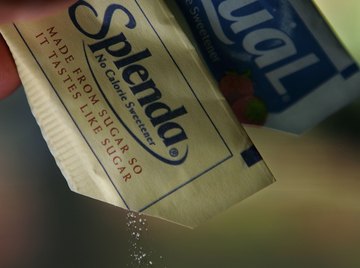 •••
Justin Sullivan/Getty Images News/Getty Images
Many people use artificial sweeteners every day to help them loose weight or to balance blood sugar. Many other consumers avoid artificial sweeteners because they believe these substances damage health. Eighth grade students may participate in a variety of experiments that compare regular sugar with artificial sweeteners for taste, use in recipes and toxicity.
Taste Test
Prepare containers of tea or other consumer sweetened drinks using various sweeteners and have students compare the taste without knowing which sweetener you used. Sweeten one pitcher with regular white sugar, a second pitcher with acesulfame-K, a third pitcher with sucralose, a fourth pitcher with aspartame, and a fifth pitcher with saccharine. Number the substances with a highlighter on the bottom of each paper cup. Warn eighth-graders who have had a bad reaction to artificial sweeteners or who have PKU disease not to participate to prevent negative reactions from the taste test. Grade each liquid for initial taste quality and aftertaste quality.
Recipe Test
Artificial sweeteners do not always work well in recipes. Prepare a normal size recipe for cake or cookies and add all the ingredients to the mixture except for the sugar. Split the recipe in five equal portions and add either sugar, acesulfame-K, sucralose, aspartame or saccharine in proportion to a batter. Use five different colors of toothpicks to mark which sweetener each item contains. Ask eighth-graders to rate the baked goods on taste, texture and overall appearance.
Sweetener Toxicity
Have the eighth-grader start with five different ant colonies or five nests of roaches or other insect. Alternatively, you can use five mice for this experiment. Mix 1 teaspoon of a sweetener -- sugar, acesulfame-K, sucralose, aspartame or saccharine -- with 4 ounces of water and place the liquid in a container with the test subjects. Watch the health of the test subjects over the course of two to four weeks. Record the weight of larger subjects such as mice, and the number of live subjects for ants and cockroaches. Determine whether the substances prove to be toxic to the subjects.
Sweetener and Weight Gain
Divide the eighth-graders in the class into self-selected groups according to their sweetener preference. Choose an equal number of students using each type of sweetener. Ask the students to determine how well they lose or maintain weight based on their chosen sweetener. Ask each participant to keep a food and drink log for four weeks. Have each student mark any substance ingested that contains a sweetener, asking her to limit her diet to only one type of sweetener. Weigh each student at the beginning of the experiment and at the end. Ask each student not to weigh during the experiment, to eat her normal diet and not to change her activity level.
References
About the Author
Rev. Kathryn Rateliff Barr has taught birth, parenting, vaccinations and alternative medicine classes since 1994. She is a pastoral family counselor and has parented birth, step, adopted and foster children. She holds bachelor's degrees in English and history from Centenary College of Louisiana. Studies include midwifery, naturopathy and other alternative therapies.
Photo Credits
Justin Sullivan/Getty Images News/Getty Images