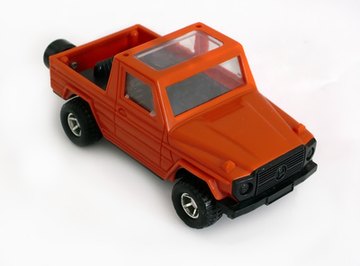 Magnetic toy car experiments can make a big impact at school science fairs. While fairly easy to execute, magnetic car experiments are a fun way to teach children about magnetism.
Features
Magnetic car experiments feature a car and three magnets. Two magnets are strapped to the car and a third magnet is held by the car "operator" and used to "drive" the toy car.
Function
The magnetic car works by using the repelling power of magnets. One magnet's north pole is placed at the back of the toy car, and the other magnet's south pole is attached at the front of the car. The third "control" magnet pushes the car forward by repelling the poles of the magnets attached to the car.
Fun Fact
Maglev levitating trains work on a similar principle as this simple science project. These high-speed trains are used for transportation in cities all over the world.
References
About the Author
Roslyn Frenz started writing professionally in 2005, covering music, business ethics and philosophy. Her work has appeared in "Designing Wealth," "The Other Side," "Upstate Live" and many other publications. Frenz has a bachelor's degree in business marketing from the University of Phoenix. She is pursuing an M.F.A. in creative writing.
Photo Credits