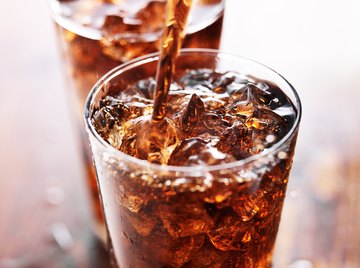 •••
rez-art/iStock/GettyImages
Teeth and soda make an excellent combination for science projects. Students can learn practical and helpful information through science experiments using teeth (or eggs as tooth substitutes) and soda pop. From staining to erosion of enamel to a comparison of ingredients in various carbonated drinks, students can choose from a wide variety of projects.
Which Soda Stains Most?
The student can determine which type of soda produces the most stains on teeth. Eggshells are an easily obtainable substitute for the color and texture of human teeth. Students place pieces of eggshell into cups that have different types of soda inside. Choose a variety of pop types, from darker colas to root beers and yellow and clear varieties. Choose a predetermined amount of time for the eggshells to soak. Compare each eggshell to a "control" eggshell that has not been soaked (or has been soaked in water). Determine which soda produced the most staining.
Does Soda Dissolve Tooth Enamel?
All those fizzy bubbles in soda are fun to watch, but you may wonder whether they are harmful to your teeth. Experiment to find out. Hard-boil several eggs to serve as tooth substitutes. Soak each in a differing type of pop for a predetermined amount of time. Then examine the shell of each egg in comparison with a control hard-boiled egg that has not been soaked in soda. Is the shell thinner (or eroded completely) on any of the eggs? Which soda affected the egg most?Students may also want to compare soda with other beverages (such as coffee, tea or hot chocolate) to see the effects on enamel caused by each.
Acids in Soda
Citric acid and phosphoric acids are found in soda. Conduct an experiment to determine whether soda with citric acid is harder on teeth than soda with phosphoric acid. Soak hard-boiled eggs in cups of pop with citric acid or phosphoric acid, then compare the condition of the shells with that of a control egg.
Diet vs. Regular Pop
Prevailing wisdom would lead you to believe that regular pop is harder on teeth than diet soda because diet soda contains no sugar. However, both types of pop contain acids. Experiment by placing hard-boiled eggs into cups filled with various sodas, both diet and regular. After a predetermined amount of time, remove the eggs and compare the condition of their shells with the shell of a control egg. Do diet sodas or regular sodas produce more damage to enamel?
References
About the Author
After teaching for 8 years, Susan Braun has been doing freelance writing since 1999. Her writing has been seen in "Parents," "Children's Ministry," Mommytrackd.com, Associated Content and WAHM.com. Braun has a Bachelor of Arts in retail from Indiana University and an Master of Science in education from University of Alabama.