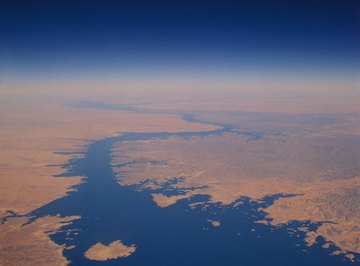 •••
Creatas Images/Creatas/Getty Images
Henry (also known as Harry) Hess was a geologist born in 1906. He worked as a professor at Princeton, was in the Naval Reserve during World War II and helped develop the U.S. Space Program. While Henry Hess did not invent any devices, he is known for coming up with the Theory of Plate Tectonics.
What is Plate Tectonics?
Plate Tectonics is also known as seafloor spreading. In 1953, the Great Global Rift was discovered under the oceans. The Great Global Rift is a volcanic valley located along mountain ridges at the bottom of the sea. Hess theorized that the hot gasses and magma that emerged from the Great Global Rift pushed the ocean floor away from the rift, causing the land to spread. Rather than one big mass, the land was in plates. When these plates spread away from the rift, where they crashed into another plate they formed ridges and mountains. Where the plates separated, they formed trenches. This also explained why some parts of the ocean floor seemed younger than other parts, since they were newly exposed when the plates separated.
References
About the Author
Jill Kokemuller has been writing since 2010, with work published in the "Daily Gate City." She spent six years working in a private boarding school, where her focus was English, algebra and geometry. Kokemuller is an authorized substitute teacher and holds a Bachelor of Arts in English from the University of Iowa.
Photo Credits
Creatas Images/Creatas/Getty Images