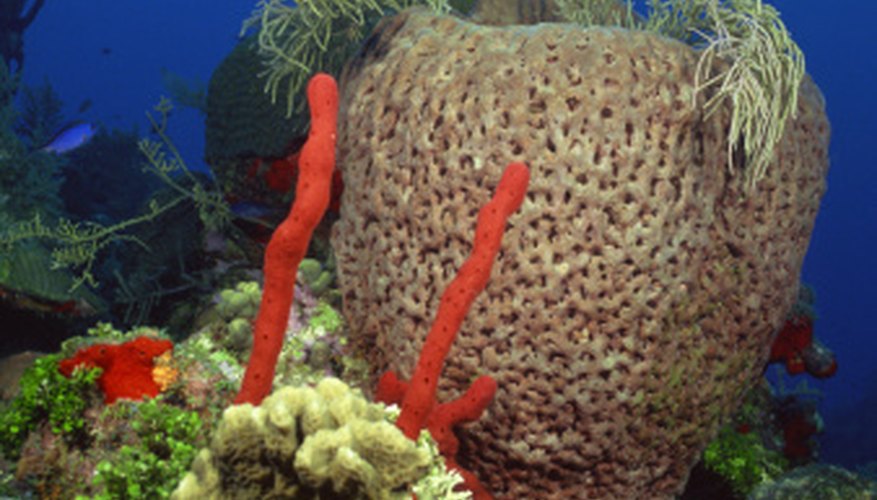 Comstock/Comstock/Getty Images
Unlike the majority of terrestrial biomes or freshwater biomes, the marine biome cannot be characterized by clear seasons. In fact, the marine biome has basically only one season all year round. The average temperatures and weather conditions vary very little throughout different seasons, and this allows many marine organisms to live in a specific area their entire lives.
Climate
The term "climate" typically refers to a region's average temperature and precipitation levels. The marine biome covers almost three-fourths of the planet, so no single set of specifications exists for the climate of this biome. However, the climate remains fairly constant in any particular region of the biome. For example, the average temperature and precipitation in the South Pacific is relatively unchanged from year to year, but different from the climate off the coast of Spain.
Weather
An area's weather is the conditions affecting the area over a brief span of time. Unlike the constant climate, the weather in the marine biome is often unpredictable and changes quickly. Storms and strong winds sweep in over the ocean without warning and then pass by just as quickly. Atmospheric phenomena have little to no effect on the creatures underwater. Occasionally stiff winds can produce strong currents near the surface, but they rarely affect organisms in deeper water.
Latitude
One of the biggest factors affecting differences in conditions in the marine biome is latitude. Portions of the marine biome closer to the equator tend to have higher average temperatures, just like corresponding terrestrial biomes. Also, different regions of the Earth's oceans contain different prevailing currents, which bring in various types of weather, nutrients and outside organisms. The ecosystems in the waters near the North Pole are quite different than in the waters off the coast of Brazil.
Depth
Another key factor behind variations throughout the marine biome is water depth. The ocean is a very different place at 3,000 feet below the surface than it is a few inches below. Generally, temperature decreases as depth increases, as does light, because rays of sunlight can only penetrate so far into the water. Deep waters tend to have stronger, more constant currents, while areas closer to the surface are affected more by winds and other topical weather phenomena.