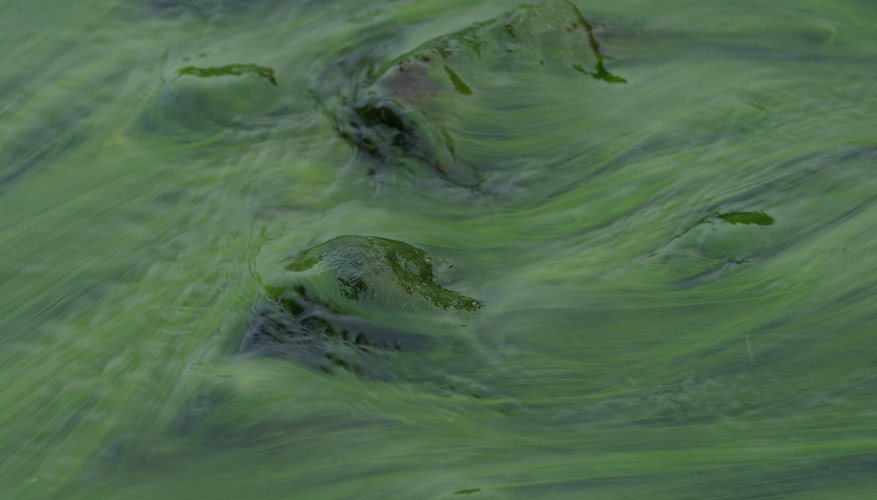 Jupiterimages/Photos.com/Getty Images
Cladophora is a diverse genus of filamentous green freshwater algae. "Filamentous" means that the cells grow in linear structures that look like hairs, and most colonies of Cladophora look distinctly hairlike, though some species form secondary structures, including lichen-like masses and even spheres. Cladophora attaches to substrate, such as rocks, by holdfasts and can reproduce asexually or sexually depending on environmental conditions. It has discoid or reticulated parietal chloroplasts with bilenticular pyrenoids.
A Confusing Class
Though popularly considered water plants, algae are not usually grouped in the same kingdom as the so-called true plants, Plantae. They're typically placed in Protista with all eukaryotic single-celled organisms. Kingdom Protista is paraphyletic, which means it contains more than one group -- not all protists are closely related, they're simply lumped together because biologists aren't yet sure where else to put them. Multicellular algae are considered protists because their gametes and zygotes lack protection against dehydration, which is one marker of the true plants.
Inside the Color Line
Algae are also paraphyletic -- their true relationships are not completely understood. They have long been grouped according to color rather than any proven phylogenetic relationship. Color is determined by pigments in the chloroplasts. Chloroplasts are organelles that manufacture energy, in the form of carbohydrates, from sunlight, carbon dioxide and water. Green chlorophyll is the primary pigment for all algae, but some types have accessory pigments that can mask this color. Cladophora is classed as "green algae" because its chlorophyll shines through.
Deciphering Shape
Cladophora species have discoid or reticulate parietal chloroplasts. "Parietal" means that the chloroplasts lie against the cell walls. "Discoid" means that each cell contains many small chloroplasts, not necessarily that the chloroplasts are disk-shaped. Cladophora chloroplasts are often circular or ovoid, but not always: when lots are contained in a single cell, they sometimes get packed together into a net-like structure called a reticulum, hence the term "reticulate."
Starchy Lenses
Algae store energy in the form of carbohydrates -- starch or sugars -- inside their chloroplasts. Pyrenoids are the starch-storage units. They often look like dots inside the chloroplasts. Cladophora pyrenoids have a distinct bilenticular shape. "Bilenticular" means they're reminiscent of a pair of eyeglasses: the pyrenoid looks like a tiny bridge, with a lens-shaped starch body on either side.