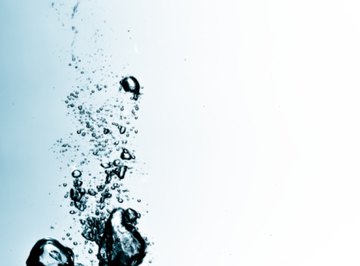 •••
Jupiterimages/Photos.com/Getty Images
A siphon is a way to carry water uphill without the use of pumps. It consists of a hose full of water with one end in a water source and the other end pouring out into a destination that is below the source. A combination of gravity and atmospheric pressure drives the water through the hose, even if parts of the hose take the water uphill.
Fill one container with water and place it on the higher surface. Place the empty container on the lower surface. Put one end of the hose in the full water container.

Fill the hose with water either by completely submerging it or by sucking water through it. Keep one end submerged and the other totally covered as you move the hose so that air doesn't get into the hose.

Place the other end of the hose in the empty container. Water should immediately begin flowing through the hose and pouring into the container, regardless of how high any part of the hose is. Rest the center of the hose on an object higher than both containers, leaving one end in each container. The water will continue to flow even though the rise in the center of the hose forces it to flow upward.

Put a few drops of food coloring into the water in the higher container to make the upward flow of water visible. You will need to use a clear hose to assist in viewing.

Two flat surfaces at different heights
Two containers
Water
Clear plastic hose
Food coloring (optional)
About the Author
Benjamin Twist has worked as a writer, editor and consultant since 2007. He writes fiction and nonfiction for online and print publications, as well as offering one-on-one writing consultations and tutoring. Twist holds a Master of Arts in Bible exposition from Columbia International University.
Photo Credits
Jupiterimages/Photos.com/Getty Images