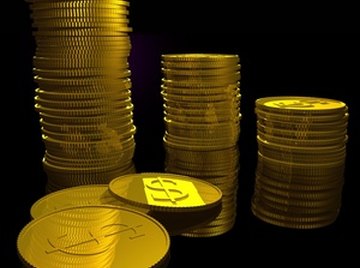 A standard gold bar measures 7 x 3 5/8 x 1 3/4 inches, according to the United States Mint. It weights about 400 ounces, or 25 pounds. The internationally accredited standard dictates it must weigh between 350 and 430 ounces.
Recommended Size
The London Bullion Market (LBMA) defines "London Good Delivery," the international standard for a gold bar, by weight. Size is less important, but the market recommends dimensions of about 10 by 3 1/5 inches for the top surface, 9 3/10 x 2 1/5 inches for the bottom surface and 1 1/2 inches in thickness.
Manufacturers
There are 55 manufacturers in the world that produce about 150,000 gold bars every year that are accepted as London Good Delivery, according to Gold.org. They contain at least 99.5 percent gold. Central banks hold about 2.5 million of these bars around the world.
Gold as a Commodity
Gold is not legal tender. It is not recognized as currency, but is traded as a commodity with a volatile price. Any U.S. bank that acts as principal in gold-related transactions must advise its district Federal Reserve Bank.
References
About the Author
Lexa W. Lee is a New Orleans-based writer with more than 20 years of experience. She has contributed to "Central Nervous System News" and the "Journal of Naturopathic Medicine," as well as several online publications. Lee holds a Bachelor of Science in biology from Reed College, a naturopathic medical degree from the National College of Naturopathic Medicine and served as a postdoctoral researcher in immunology.
Photo Credits