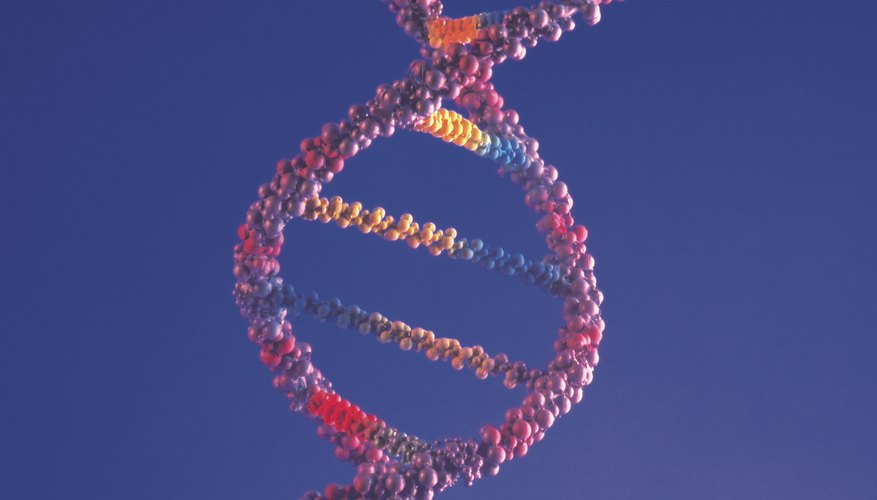 Deoxyribonucleic acid is often called the 'blueprint for life' as it contains a series of nucleotides, also called bases that make up our genetic code. The genetic code is the sum of our genes, or small coding regions of DNA, which determine protein production which support life and the inheritable traits that make up our appearance or genetic phenotype.
The Discovery of Genes
A monk named Gregor Mendel in the late 1850s first studied traits and genetic inheritance. Though the importance of his work would not become recognized until years after his death, he determined how traits were passed from one generation to the next by breeding thousands of pea plants and recording the phenotypical, or physical, traits of each cross. His work led to the discovery of genes, segments of DNA that code for proteins and determine the observable traits of an individual.
Understanding Genes
Genes are segments of DNA that encode for the production of proteins. These proteins are the building blocks for life, providing structure to our bodies, carrying out necessary bodily functions and determining the physical characteristics of an individual. Genes become active in producing a certain trait during a process called gene expression, a process that will produce the necessary proteins for the trait to be expressed.
Coding for Traits
Slight differences in our protein production are responsible for the individuality seen in every plant and animal species on this planet. DNA is packaged into chromosomes pairs, one donated from each parent. This composite of genes controls the types of proteins produced and is the reason why children resemble both parents. The types of proteins produced will determine eye color, hair color and body shape, as well as our probability to determine certain cancers, our ability to eat dairy products in our adult lives and our opinion on how broccoli and cilantro tastes.
Mutation and Trait Variation
DNA mutation is a natural and necessary process, as it creates variations in the genetic code and makes a species more likely to survive environmental changes, epidemics, natural disasters and any other population threatening events. Mutations that occur within genes may give rise to a new variation in the trait in which the gene codes for. For example, the gene which codes for blue eyes was caused by a mutation occurring in the DNA region that codes for eye color.