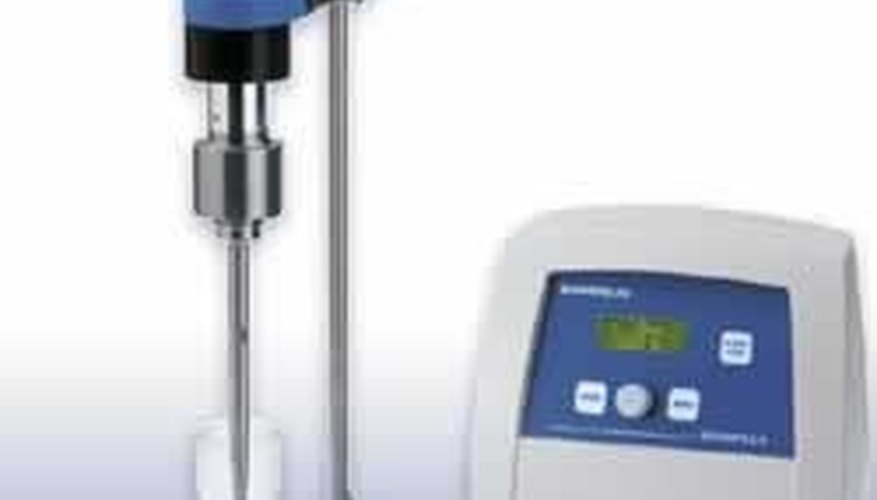 Sonication is the process of converting an electrical signal into a physical vibration that can be directed toward a substance. Sonicators are vital lab equipment and are used for a number of purposes. Sonication is usually performed to break apart compounds or cells for further examination. The vibration has a very powerful effect on solutions, causing their molecules to break apart and cells to rupture. A prime example is in DNA testing, where the cells that may contain DNA information are subjected to sonication to break them apart and release the DNA proteins so they can be tested.
The primary part of a sonication device is the ultrasonic electric generator. This device creates a signal (usually around 20 KHz) that powers a transducer. This transducer converts the electric signal by using piezoelectric crystals, or crystals that respond directly to the electricity by creating a mechanical vibration. This vibration, molecular in origin, is carefully preserved and amplified by the sonicator, until it is passed through to the probe.
The sonication probe transmits the vibration to the solution being sonicated. This probe is a carefully constructed tip that moves in time with the vibration, transmitting it into the solution. The probe moves up and down at a very high rate of speed, although the amplitude can be controlled by the operator and is chosen based on the qualities of the solution being sonicated.
The rapid movement of the probe creates an effect called cavitation. Cavitation occurs when the vibrations create a series of microscopic bubbles in the solution, pockets of space wedged between the molecules that form and then collapse again under the weight of the solution, sending out tiny shockwaves into the surrounding substance. Thousands of these bubbles forming and collapsing constantly create powerful waves of vibration that cycle into the solution and break apart the cells.
There are different-sized probe tips based on what sort of sonification process is desired. A very small tip will create excellent cavitation effects and easily disrupt surrounding cells, but it will have a limited area of effect based around the probe itself. Larger tips can reach a greater quantity of the solution but will not produce such an intense reaction.
Sonication rates as a very thorough cell-disrupter, sometimes too strong for the cells and proteins in question. If scientists need to use a more delicate procedure, they generally choose a traditional process such as enzyme digestion (disruption by chemical reaction) or grinding with a material such as sand.