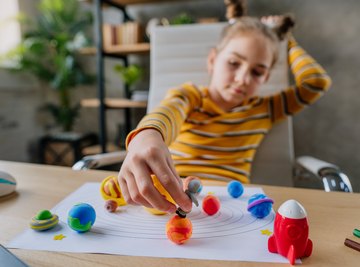 •••
lithiumcloud/iStock/GettyImages
​Sciencing may earn compensation through affiliate links in this article.​
Even though the number of science kit options out there for kids is huge, some specific fields are a little more difficult to find kits for than others. While you can easily find kits for the basics of many areas of physics, astronomy and space science kits are a little rarer. However, while the more basic offerings that focus on models of the solar system and basic lessons about it, there are a number of kits that can give kids a taste of what it's really like to be an astronomer and help them get to know the night sky. Here are some of the best options out there.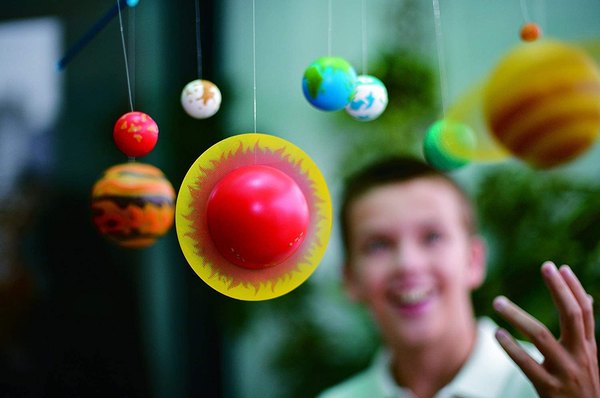 This kit offers a simple and hands-on introduction to the solar system through model making. The kit comes with the pieces for all eight planets (which come in two halves), a hanging frame and string, a paint brush, two strips of ordinary paints and two glow-in-the-dark paints. You'll also get a poster about the solar system that contains some key facts about each of the planets. It's marketed as being for kids aged 8 and over, but realistically it could be done by much younger kids with a parent helping.
Making the mobile of the solar system is the main focus of this space kit, and even though the amount you can learn in this way is kind of limited, it does teach kids about the order of the planets and about their relative sizes (although, of course, the model isn't to scale – this isn't really feasible for the solar system). The poster contains more information about the individual planets, but this is still really more something to spark an interest than to engage a kid who already knows the basics.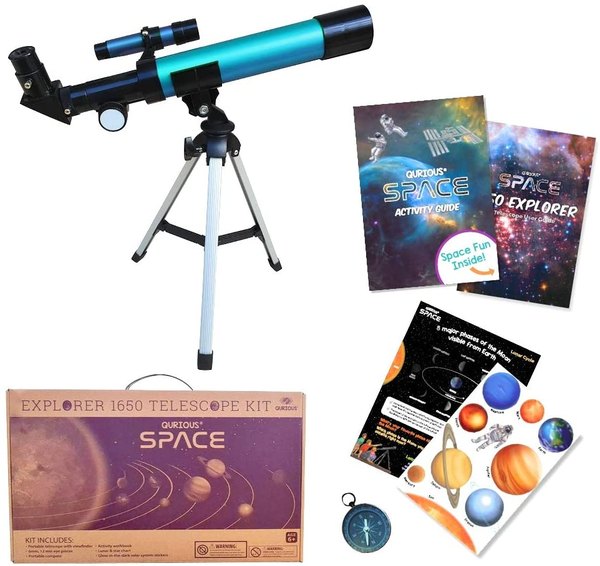 While the Kid's Explorer Telescope kit is a space kit for kids centered around the included telescope, it also includes lunar and star charts, as well as a 16-page activity guide. The telescope alone will introduce your kid to many important concepts in space science, and encourage them to learn more about what there is to look for in space. The telescope is a 66 mm diameter refractor, which comes with a tripod and finder scope, as well as two interchangeable eyepieces (12× and 6×), and is easy to set up with no tools required.
The activity guide is mainly focused on general information on space and activities like space crosswords that your kid can do on a cloudy day. The lunar and star charts included with the kit are really useful for guiding use of the telescope, with the lunar chart explaining the phases of the moon in an intuitive fashion, and the star chart making it easy to identify the most well-known constellations in the night sky. Don't expect anything jaw-dropping – it is still a simple kids' telescope – but you can get great views of the moon and outlines of the other planets on a clear night.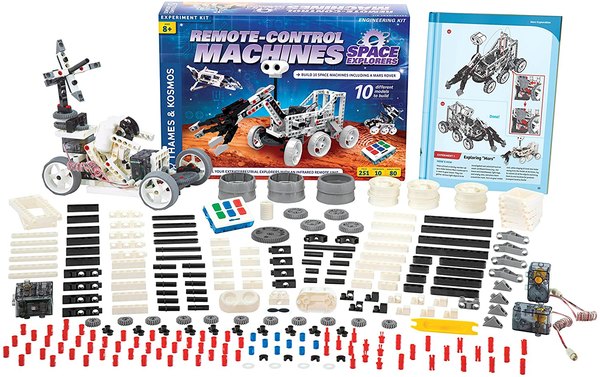 •••
Thames & Kosmos (via Amazon)
The Remote Control Machines kit from Thames & Kosmos focuses on the rovers often used to explore space more so than space itself, but it also includes relevant information about the Mars missions and robotics in space (as well as in fiction). The kit comes with 251 pieces, including a six-button, multi-channel remote control and three motors, which can be used to make a total of 10 different models. These include a Mars rover, lunar rover, space shuttle, shuttle arm, a rocket launch car, a probe, a walking robot, a droid, an X-wing ship (called "cross-wing" but the intent is clear) and a spaceship controller.
Most of the educational content in the space kit comes is sprinkled throughout the 80-page manual, with little "Check it out" asides that teach your kids about the actual rovers and machines they're building, along with content about the history of space exploration. The kit is recommended for kids aged 8 and over.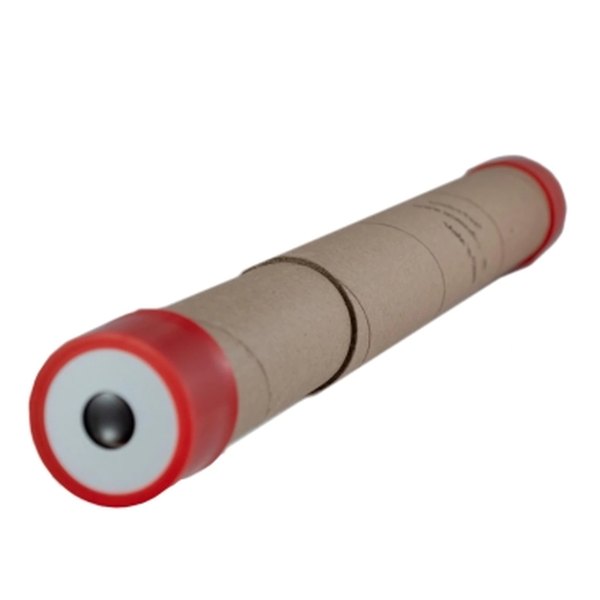 This science kit is all about making your very own telescope, aiming to take your kid back in time to learn about how scientists such as Galileo made crucial observations that shaped the future of science with very rudimentary equipment. The kit guides kids through making their own refracting telescope (which uses two converging lenses to magnify distant objects), which was first invented by Hans Lippershey in the early 1600s. The kit contains everything your kid needs to make a basic refractor, intended for kids aged 8 or older.
It also looks into the history of astronomy, keeping the focus on the role of telescopes but also delving into some of the history surrounding Galileo and Jupiter's moons, for instance, as well as stories about other astronomers through history. And of course, with the telescope completed, your child can start to follow in their footsteps by using their telescope for real.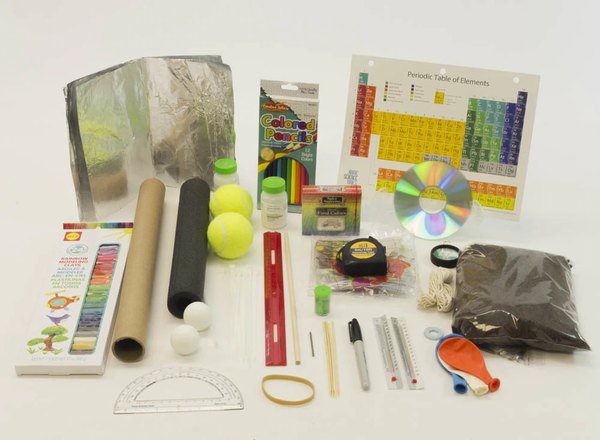 •••
Real Science Odyssey (via Home Science Tools)
This textbook and companion lab kit is intended as a comprehensive astronomy course for middle school aged kids (10 to 14), with the textbook containing engaging lessons on a wide-range of space science related topics, and the lab kit providing some of the less common items kids need to complete the activities inside. It was explicitly designed to meet the National Science Education Standards for life science for grades 5 to 8, and they've gone to special effort to ensure the course is more than just relaying facts: the aim is to make kids engage with and think about the content.
The course covers some key concepts in space science, including the universe and cosmology, stars, the solar system, Earth and the moon, gravity and the mapping of space. The companion lab kit contains many items for the activities included, such as a periodic table, a topographical globe, modeling clay, balloons, food coloring, thermometer, a compass and more.
References
About the Author
Lee Johnson is a freelance writer and science enthusiast, with a passion for distilling complex concepts into simple, digestible language. He's written about science for several websites including eHow UK and WiseGeek, mainly covering physics and astronomy. He was also a science blogger for Elements Behavioral Health's blog network for five years. He studied physics at the Open University and graduated in 2018.