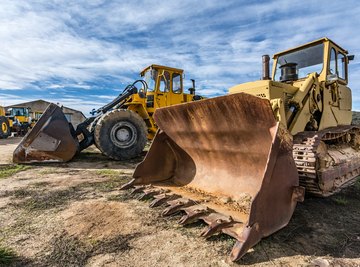 •••
Juan-Enrique/iStock/GettyImages
Case has produced many loader models over the years, including the 570MXT loader. Case has manufactured both two-wheel drive and four-wheel drive models of the 570MXT loader. The standard, general-purpose bucket attachment for this loader measures 82 inches in width and weighs 686 pounds. It can hold a maximum of 1.03 cubic yards of heaped load. This loader offers a 6,503-pound lift capacity.
Engine
Case fitted the 570MXT loaders with the Case Family III 445T/M3 engine. This engine is a turbocharged, four-stroke, four-cylinder engine that runs on diesel fuel. The Case 570MXT loader engine's bore and stroke is 4.09 by 5.19 inches. Total piston displacement on this engine is 273 cubic inches. This liquid-cooled engine features a cross-flow air intake system and a direct injection fuel delivery system. The Case 570MXT offers 79 net horsepower output with the engine running at 2,200 rpm. The engine also offers 270 foot-pounds of torque at 1,400 rpm.
Capacities
Case equipped their 570MXT loader with either a 31.4-gallon standard fuel tank or an optional 40-gallon fuel tank. This loader's hydraulic system was engineered to hold 20.25 gallons of fluid. Two-wheel drive models of this loader can hold up to 19 quarts of transmission fluid, while four-wheel drive models can hold up to 22 quarts. The engine in this loader is designed to hold a maximum 14.4 quarts of engine oil. Loader models with an in-cab heating system hold 17.8 quarts of engine coolant, and models without the heater hold 17 quarts of coolant.
Dimensions
The Case 570MXT was designed to just under 17 feet in length. These loaders are 79.3 inches wide, with standard tires, or 81.7 inches wide when fitted with larger tires. They offer a 164-inch operating height while the bucket attachment is fully raised, and a 10.9-inch ground clearance under the front axle. Two-wheel drive models have an 84-inch wheelbase while four-wheel drive models have an 84.5-inch wheelbase.
Other Specifications
The hydraulic system on the Case 570MXT pumps at a rate of 28.5 gallons-per-minute. It offers 3,000psi pressure output. It takes 5.3 seconds to fully raise the bucket on this loader, and 2.4 seconds to completely lower it to the ground. The bucket dumps in 1.1 seconds. In fourth gear, the Case 570MXT can travel forward at 25.2 miles per hour. This loader's fully equipped operating weight is 14,601 pounds at its heaviest configuration.