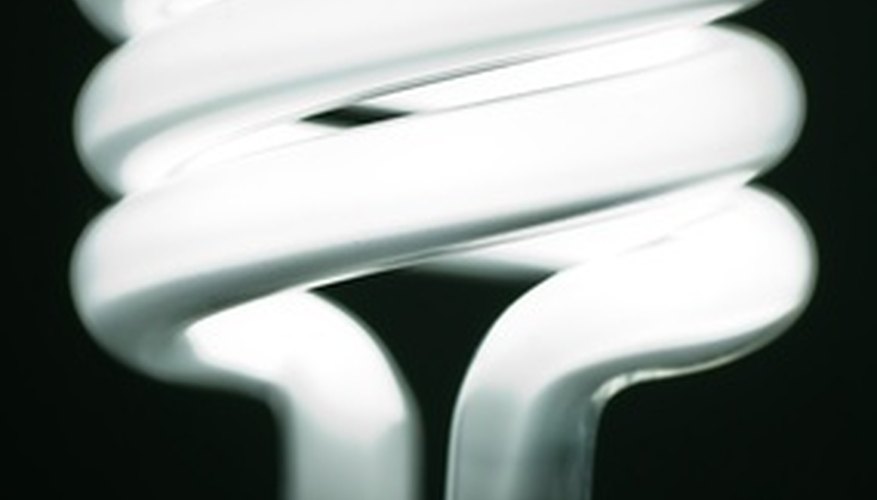 Fluorescent light bulbs are replacing incandescent bulbs around the world. They have several key benefits--for one, they last much longer and use much less energy, leading to long-term savings. They also produce power in different ways, leading to a very different spectrum of light wavelengths. Fluorescent lights tend to exude less heat and more upper-wavelength light than incandescents.
Fluorescent Light
Fluorescent light bulbs are actually made from two different types of energy interactions. The first type occurs when electricity courses through the gas in the bulb, making it give off ultraviolet radiation. This radiation is immediately absorbed by the phosphorous coating on the inside of the bulb, which produces the second type of energy, visible light. The type of gas used in the bulb affects the spectrum of light fluorescent bulbs produce.
Spectrum Qualities
Fluorescent light spectrums are unique, characterized by their mercury lines, or lines of radiation from the small amount of mercury in their gas, that emits light wavelengths that travel beyond the coating and are picked up by spectrographs. Most fluorescent spectrums spike highly with blue, a little green, and red wavelengths, with several variations based on the type of bulb.
Warm White
Different fluorescent bulbs produced different temperatures, and the warmer the bulb is, the more different the light spectrum will be. In a paradox, the coolest bulbs are known for producing what is called a "warm white" fluorescent color, which is similar to an incandescent light, but more orange. Slighter higher temperatures produce warm white colors with less red.
Cool White
Cool white fluorescents have a medium to high temperature output, and produce light that is plain white or icy white in color. The highest temperatures produce an even bluer light, which includes the reds and oranges from the previous temperatures but adds blue wavelengths that tint the overall spectrum.
Full Spectrum
Some types of fluorescent lights are designed to be "full spectrum" or produce colors at very high temperatures, which mimics the spectrum of real daylight. These bulbs can be useful for people who are bothered by the colder colors of other fluorescents, but they are used most often as grow lights. Plants respond best to the full spectrum of these special bulbs when growing indoors.