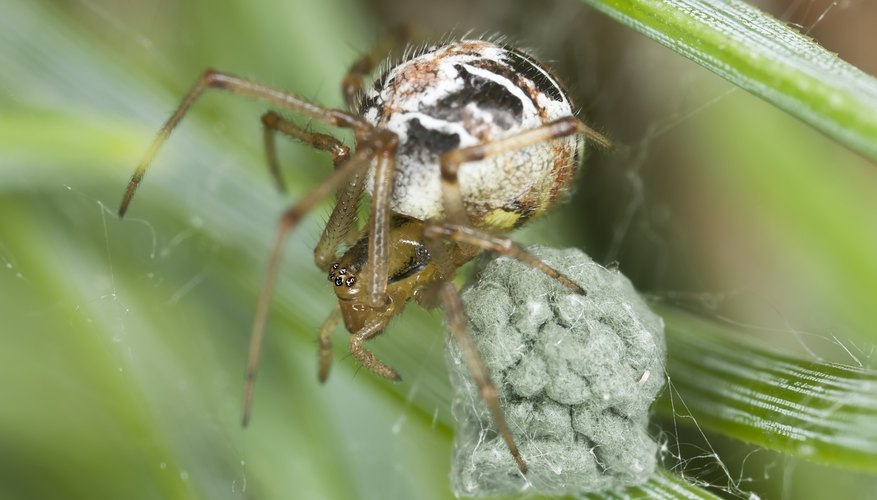 In order to mate, a male spider creates a web with silk from his posterior spinnerets; he deposits sperm on the web then dips appendages called "pedipalps" into the sperm. The sperm is drawn into a syringe-like duct on the tips of the pedipalps. During mating, the male inserts one or two of his pedipalps into the genital opening of the female and deposits the sperm.
All spiders use the same basic process for mating, but actual copulation is only a small part of spider mating behavior.
Sexual Cannibalism
Researchers Shawn Wilder and Ann Rypstra from Miami University discovered that the smaller a male spider is in relation to the female of his species, the more likely it is that he will be eaten by the female during a sexual encounter. This is bad news for male spiders, since many of them are smaller than their female counterparts. In order to survive a mating encounter long enough to deposit sperm into a female spider, male spiders have developed a variety of courtship rituals.
Call Before You Visit
Males of web-building species of spiders may indicate interest in courtship by plucking or vibrating threads in the web of a potential mate, choosing patterns of movement and sound that are different from the sharp, erratic motions of trapped prey. The black widow male shakes his abdomen as he approaches a female, producing long, low-amplitude vibrations in the web that inform her a suitor is approaching, not a meal.
Ask if She Has Eaten
Some spiders produce chemical cues that indicate when they have recently fed. Male black widows pick up these cues when they walk across a web, giving them time to escape if a female is too hungry for courtship. Male grass spiders know when a female has eaten another male and find cannibalistic females more attractive than cricket-fed females, according to researchers at the University of Pittsburgh.
Show Her Your Moves
For ground-hunting spiders, appearance seems to play a role in the selection of a mate. While researching the social patterns of wolf spiders, Cornell University behavioral scientist Eileen Hebets discovered that the females prefer to mate with males that look similar to the males they grew up around -- unfamiliar males are likely to be killed and eaten.
Female jumping spiders, on the other hand, appear to be attracted to flamboyant sights and sounds. The males are highly ornamented -- tufted with iridescent hairs, front leg fringes or brightly colored exoskeletons. They perform elaborate courtship dances, and if the female likes the male's fancy dance, she will allow copulation.
Prove You Are Willing to Die for Love
Some males solve the problem of being eaten before they can copulate by allowing themselves to be eaten while they copulate. The male redback spider twists his abdomen directly onto the fangs of his mate, offering himself up for her dining pleasure. Animal behaviorist Maydianne Andrade has offered two possible explanations for this apparent madness: First, when she is busy eating, the female redback will allow copulation to continue for a longer period of time. This means a suicidal mate has a better chance of successfully fertilizing her eggs. Second, female redbacks are less likely to give breeding rights to a second male after eating the first. So the self-sacrificing male is more likely to be the father of all the female's offspring.