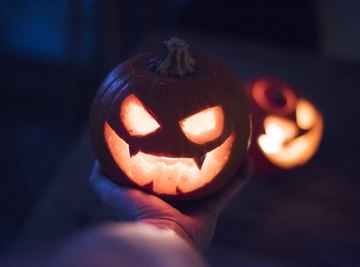 •••
Fernando Vazquez Miras/Moment/GettyImages
Happy Halloween! 'Tis the season for ghosts, goblins and (of course) spooky science! The truth is, while science can get a reputation as a little stuffy and buttoned up – blame the lab coats! – it can also get, well, pretty weird and even kinda scary. Think zombie ants, flesh-eating bacteria, and species that want to suck your blood.
So, to get into the spirit of the season, we rounded up some scary, spooky or just plain Halloween-ey stories – they're perfect for a cold, dark night.
Scientists Are Creating "Zombie" Plants
The group works on ghost ponds (how's that for creepy?). Ghost ponds are ponds that never full drain properly, but are now buried under agricultural land. Some of the ponds are centuries old, so they're a great way to look into the ecosystems of the past.
So where does the zombie part come in? Well, the researchers have found a way to take plants buried in ghost ponds and use the seeds to – you guessed it – bring them back to life. That means that there could be a way to bring back ghost pond ecosystems and increase biodiversity in the region.
We're Hard-Wired to Find Some Music Spooky
Halloween is the perfect time to catch up on your favorite scary movies – but, if you think about it, they wouldn't be quite so terrifying without the soundtrack. A soundtrack can make jump scares more scary, and they set the mood for the entire film.
And the reason soundtracks are so effective? Evolution. As neuroscientist Daniel Levitin told Science Friday, a science-themed radio show, humans have evolved to fear sounds associated with harm or risk – like, say, cries from dangerous animals. We also evolved to detect changes in sound patterns – for example, unfamiliar footsteps could signal danger is near.
So when you hear sounds that seem similar to evolutionary harm signals, you might start to get scared. And rapid changes in beat – or in other words, changes in sound patterns – can also put you on edge.
More Interstellar Objects are Entering Our Solar System
Well, scientists are still exploring space and, possibly, getting closer to identifying whether extraterrestrial life exists. And some of their discoveries from the past few years are pretty cool. Take these mysterious radio signals, which seem to originate from a distant galaxy. Scientists think they originated from giant stars, called neutron stars, that have enough energy to transmit signals billions of light-years away.
Finally, scientists announced last month that the second interstellar object is about to pass into our solar system. It's similar to a comet, Business Insider reports. Tracking its flight path will help astronomers understand where it came from – and get one step closer to understanding our universe.
References
About the Author
Sylvie Tremblay holds a Master of Science in molecular and cellular biology and has years of experience as a cancer researcher and neuroscientist. Before launching her writing business, she worked as a TA and tutored students in biology, chemistry, math and physics.