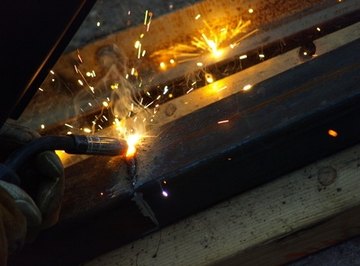 Spot welding is a popular way of joining two sheets of thin metal, such as stainless steel. The sheets are placed between the two welding electrodes, to which pressure is applied. Passing an electric current through the welding electrodes and the sheets of metal results in a high degree of resistance in the sheets of metal, meaning that enough heat is generated to melt the metal and join it together. The amount of current, the amount of time that current is passed through the electrodes and the pressure applied to the electrodes must be tailored to the material being welded.
Position the stainless steel sheets to be joined, between the electrodes. Copper-cobalt-beryllium electrodes have an optimal tensile strength and electrical conductivity for welding stainless steel.

Lower the upper electrode. Apply the clamping force to exert pressure on the metal sheets.

Weld the sheets, for a predetermined amount of time, with a low-voltage, alternating current, using the manufacturer's specifications for the particular kind and thickness of stainless steel that you are welding.

Remove the welding current. Hold the clamping force in place for a predetermined time, according to the manufacturer's specifications.

Raise the upper electrode, freeing the welded stainless steel.
References
About the Author
Tricia Lobo has been writing since 2006. Her biomedical engineering research, "Biocompatible and pH sensitive PLGA encapsulated MnO nanocrystals for molecular and cellular MRI," was accepted in 2010 for publication in the journal "Nanoletters." Lobo earned her Bachelor of Science in biomedical engineering, with distinction, from Yale in 2010.
Photo Credits