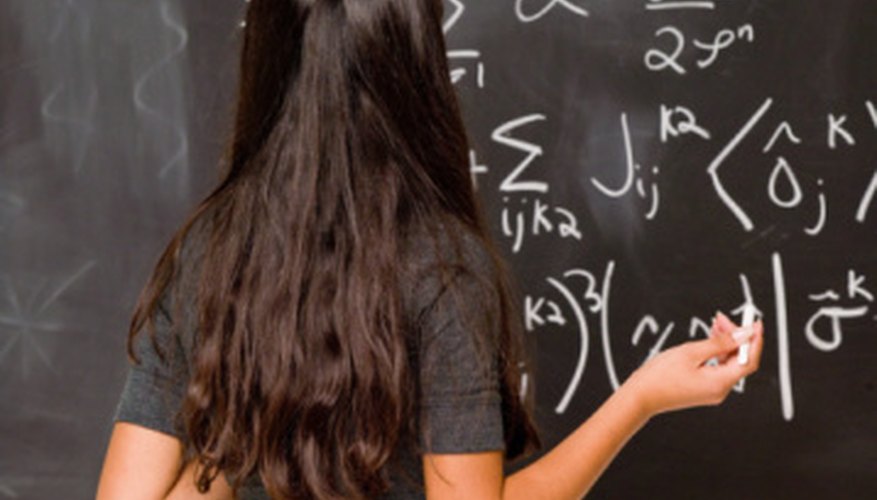 Jupiterimages/Photos.com/Getty Images
Irrational numbers are numbers that cannot be expressed as a simple fraction. For example, pi, which has an approximate value of 3.14159, is an irrational number because although pi is often expressed as 22/7, this is not an exact value. To find a square root of an irrational number by hand, you must follow a process of guessing, adding and dividing. Each time you choose a new number or fraction, the number should move closer towards the irrational number's square root and the guess becomes more accurate. You may follow the process of breaking down the irrational number as many times as you would like and obtain a more accurate answer each time.
Guess what the square root of the irrational number is. For example, if your irrational number is 2, you might guess 1.2.
Divide the initial irrational number by the guessed number. For example, 2 divided by 1.2 is 1.67.
Add the resulting sum to the original guessed number. For example, 1.67 plus 1.2 is 2.87.
Divide the new result by 2. In our example, 2.87 divided by 2 is 1.435.
Test your answer by multiplying your resulting number by itself. For instance, 1.435 multiplied by 1.435 is 2.059. This is close to 2, so if the irrational number is 2, you might decide that this number is accurate enough, or you may decide to redo the process to arrive at a more accurate number. To do this, begin again at step 2 and divide 1.435 by 2 and continue through the steps. You can do this over and over again to obtain a number that is increasingly accurate each time.