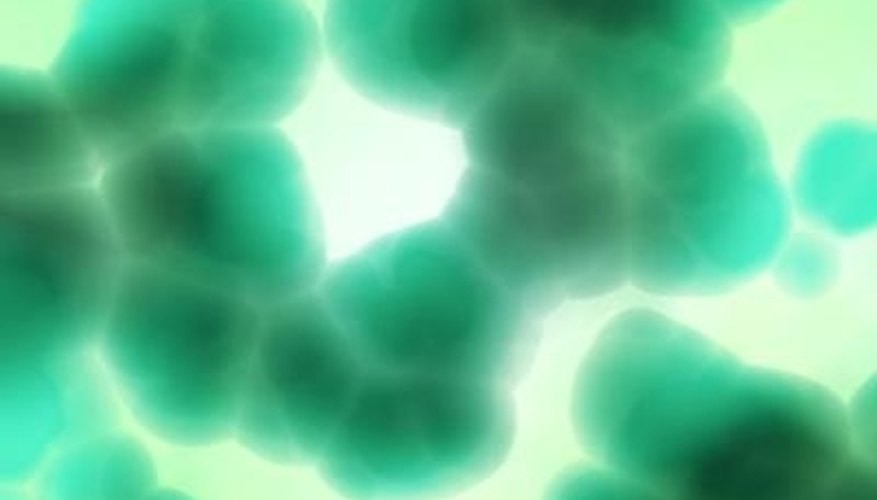 Jupiterimages/Photos.com/Getty Images
Mitochondria are membrane-enclosed organelles responsible for the conversion of the energy of food molecule into adenosine triphosphate molecule, or ATP. Mitochondria are the sites of cellular respiration -- the biochemical pathway by which the cells releases energy and provide that energy for the essential processes of life. Three stages of cellular respiration occur in the mitochondria.
Structure of Mitochondria
Mitochondria have a double-layered wrapper with an outer and inner membrane. The outer membrane is responsible for the exit and entry of the material. The inner membrane is folded to form extensions called cristae, which provide a large surface area for the attachment of structure called stalked particles. The stalked particles contain several enzymes which are responsible for the synthesis of ATP molecule. The remainder of the mitochondrion is made up of matrix, a semirigid material containing protein and lipids.
Link Reaction
Link reaction, or pyruvate decarboxylation, takes place exclusively inside the mitochondrial matrix. Link reaction is common in most organisms as a link between glycolysis and the citric acid cycle. Glycolysis is the process in which sugar glucose is changed to pyruvate. In this stage, the pyruvate molecule obtained from glycolysis is decomposed so that its stored energy may become available to the cell.
Krebs Cycle
The Krebs cycle, or the citric acid cycle, is of central importance in all living cells, especially those that use oxygen as a part of cellular respiration. The cycle occurs in the matrix of the mitochondria. The Krebs cycle is involved in the conversion of carbohydrate, fats and proteins into carbon dioxide and water to generate a form of usable energy.
Oxidative Phosphorylation
Oxidative phosphorylation, or the electron transport chain, occurs in the mitochondrial cristae. In mitochondria, the electron transport chain is the conversion of oxygen to water. It comprises an enzymatic series of electron donor and acceptors. Each electron donor passes an electron to an acceptor. The acceptor, in turn, donates these electrons to another acceptor, a process that continues down the series, releasing energy.