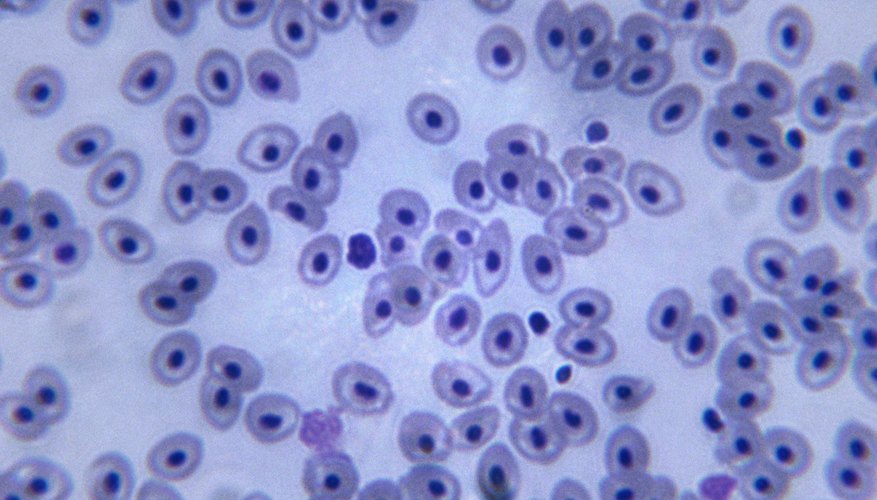 Duncan Smith/Photodisc/Getty Images
Phospholipids form double-layered membranes that are called phospholipid bilayers. These bilayers are essential for the cell to have a defined volume and internal structures. Phospholipid bilayers make it possible for cells to have organelles, such as the nucleus, which stores DNA. Phospholipid bilayers also make it possible to have small pouches, called vesicles, which carry molecules from place to place within the cell. Phospholipid bilayers also add to the overall strength of the cell's structure because their stiffness can be varied.
Barriers
One major role of phospholipids in cells is to form membranes. Membranes in cells are phospholipid bilayers, which are barriers that prevent charged particles and large molecules from moving across them. The outer skin of the cell is a phospholipid bilayer. Eukaryotic cells also have skin surrounding defined organelles with different functions inside them. Prokaryotes are cells that only have an outer membrane. The outermost membrane of cells serves as a selective barrier, allowing only certain molecules to enter and exit. The outer membrane is also called the plasma membrane.
Endomembrane System
Eukaryotes have membrane-bound organelles, which include the nucleus, endoplasmic reticulum, and Golgi body. The phospholipid membranes of these organelles are connected and are collectively referred to as the endomembrane system. The structural role of the endomembrane system is to separate the cell into compartments. The DNA is isolated in the nucleus. Production of cholesterol and other lipids occurs inside the smooth endoplasmic reticulum. Protein production occurs in the rough endoplasmic reticulum. Protein labeling and shipping happens in the Golgi body.
Small Pouches
In addition to large membrane-bound organelles, such as the nucleus, cells have small membrane-bound pouches called vesicles. These vesicles are structures that separate small molecules and enzymes into one place, away from the rest of the cell's internal fluid. The skin of these vesicles is also a phospholipid bilayer. Not only does this bilayer keep the contents of a vesicle inside, the vesicle bilayer can fuse with other bilayers. The result is that vesicles can fuse with each other and with the outermost membrane of the cell.
Membrane Fluidity
The nature of phospholipid bilayers is that their stiffness, or fluidity, can be changed by the cell. Phospholipid bilayers have an inner core that is hydrophobic, or water-fearing, and that is sandwiched between two layers that are hydrophilic, or water-loving. The hydrophobic core contains long chains of fatty acids that can stick together and form solid crystals. The cell prevents this from happening by inserting cholesterol into the membranes, which makes the phospholipid more fluid. The cholesterol prevents the fatty acids from interacting long enough to form crystals. Cholesterol also serves to strengthen the membrane. Thus, phospholipids form membranes that can vary in their strength.