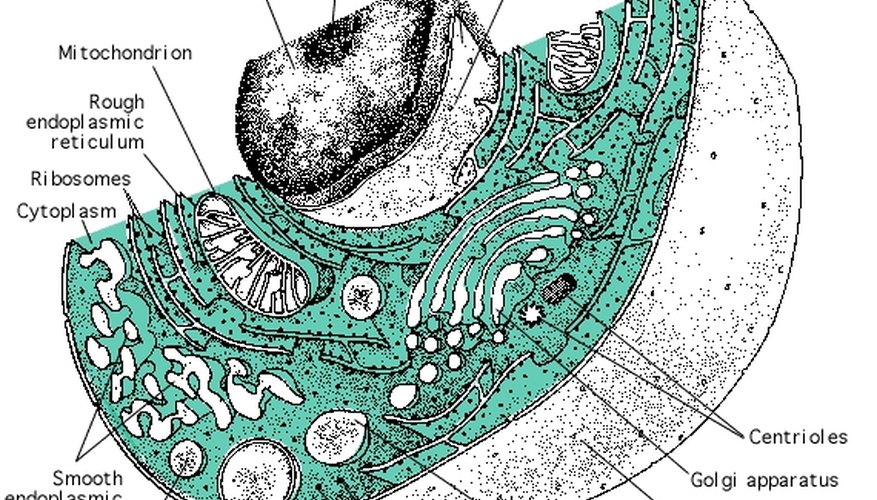 Eukaryotic Cell (US Government Photo)
Eukaryotic cells are complex structures that make up animal and human tissue. Eukaryotic cells are different from prokaryotes, which is the term given to bacterial cells. Eukaryotes are distinct from prokaryotes in that they have membrane bound organelles and DNA is contained within a nucleus. A eukaryote cell has several structures that help the cell maintain homeostasis, and provide energy and the mechanisms for protein synthesis.
Mitochondria
Mitochondria are the power source or battery for the cell. Mitochondria keep an electron gradient, creating a battery that forms the cell's energy molecule - ATP. ATP is adenosine triphosphate, which contains a high amount of energy for coupling of cellular reactions. ATP gives the cell the ability to create proteins and anabolize essential biomolecules.
Nucleus
The nucleus is a large, round structure that contains the DNA chromosomes. The nucleus membrane is porous, allowing mRNA to leave the structure and synthesize proteins. mRNA is created within the nucleus, but the mechanism for synthesis is in the ribosomes, which are located in the cytoplasm. DNA replication during mitosis also occurs in the nucleus.
Ribosomes
Ribosomes are protein structures that are located in the cytoplasm. They contain the tRNA that translates mRNA to a protein. Ribosomes are also located in prokaryotic cells, but structures differ between animal and bacterial cells. In animal cells, RNA consists of four strands while bacterial cell ribosomes only contain three.
Plasma Membrane
A plasma membrane contains the entire contents of the cell and gives it a rigid structure. The plasma membrane controls homeostasis by keeping large molecules out of the cell. Small molecules like water are able to passively pass through the plasma membrane, but proteins are used to regulate the entry of large molecules like hormones and glucose.
Lysosomes
Lysosomes breakdown and remove waste from the cell. They are also responsible for removing foreign invaders like bacteria or viruses. However, these organisms have learned to evade lysosome enzymes. Once the metabolic waste and foreign objects are broken down, lysosomes send the debris to the cell membrane, which releases the contents into the blood for kidneys to filter and excrete from the body.