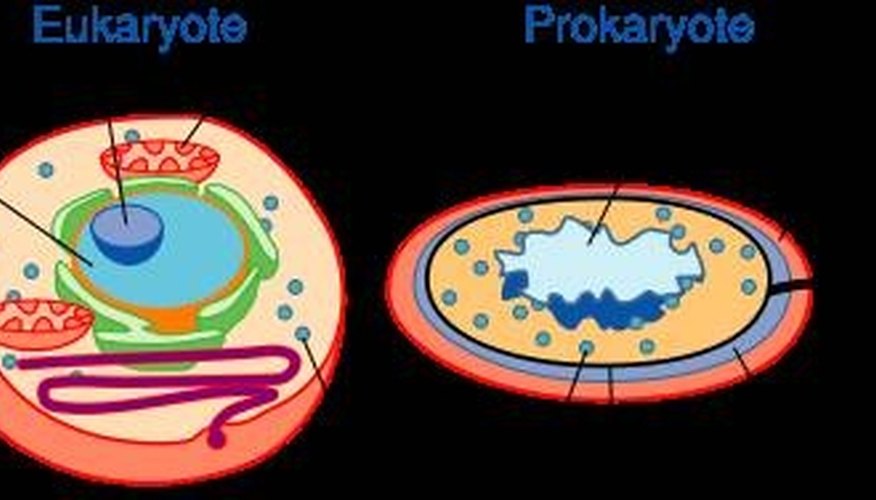 National Center for Biotechnology Information
The structure and function of the cell is imperative to all living organisms and either operates as a life form itself or combines with other cells to make a larger being. There are different types of cells depending on the organism, each with a distinct structure. However, the overall function of all cells is the same in being the building blocks of life.
Types
Two types of cells exist in nature: eukaryotic and prokaryotic. Eukaryotic cells are the building blocks of larger multicellular organisms. Prokaryotic cells are independent organisms. The main difference is that prokaryotic cells have no nucleus and lack a number of organelles.
Basic Structure
Regardless of the type, all cells have a membrane that contains and protects the cell. Within that membrane, the majority of the cell volume is comprised of cytoplasm, a salty fluid. All cells also have DNA and RNA, which contains information to build proteins.
Organelles
A number of "little organs" exist within cells, each with a specific purpose in building proteins to make enzymes and keep the cell healthy. These include mitochondria, chloroplast, ribosomes, centrosomes and vacuoles. Eukaryotes also have an endoplasmic reticulum, a Golgi apparatus, lysosomes and peroxisomes.
Nucleus
In eukaryotes, the cell's nucleus is the information center. Chromosomes are housed here, along with DNA and RNA. DNA is transcribed onto messenger RNA, which copies the information to a protein molecule. A nucleus also features a nucleolus, where ribosomes are assembled.
Function
Cells have a variety of functions that act as the basic control of a plant or animal. In order to perform this function, a cell must maintain a metabolism in which nutrients are processed. A cell can also divide into multiple cells. However, the most important function is the production of proteins, which control the full organism's function.