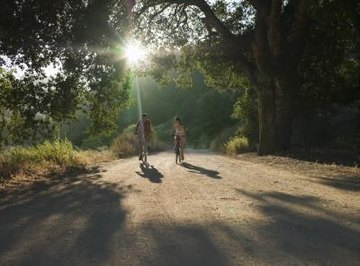 •••
Siri Stafford/Lifesize/Getty Images
The surface of the sun, or photosphere, is a yellow-colored layer of thick, hot gases marked with dark spots, known as sunspots. It is the lowest visible layer of the sun.
Temperature
The photosphere is 5,780 degrees Kelvin (K), which is relatively cool compared to the inside, measured in the millions of degrees, and the atmospheric edge, which is also measured in the millions of degrees.
Opacity
The gases that make up the photosphere are completely opaque, meaning that you cannot see through them. Therefore, stating that the sun has "surface" is a misnomer, for the photosphere is not solid.
Location
The photosphere is above the solar convection zone, where heat from the core radiates outward and below the chromosphere, where heat is transferred to the outer layer of the sun, called the corona.
Composition
The photosphere is constructed of convection cells called granules, which are cells of hot gas 1,000 km in diameter. Each granule lives 8 to 9 minutes, which produces a "boiling" effect.
Sunspots
Sunspots are cooler regions of the photosphere that appear dark because of their lower temperatures of 3,800 degrees K versus 5,780 degrees K. Sunspots can vary in size up to 50,000 km in diameter.
References
About the Author
Eric Tilden is a fantasy novelist and author of a weekly newsletter for P*JET * IMAGES, an online art website. He has been working on his fiction novels since 2005, and has written for Demand Studios since June 2009. Tilden attended the University of Michigan-Flint, obtaining an education in art, music theory, archaeology, accounting, calculus and basic graphic design.
Photo Credits
Siri Stafford/Lifesize/Getty Images