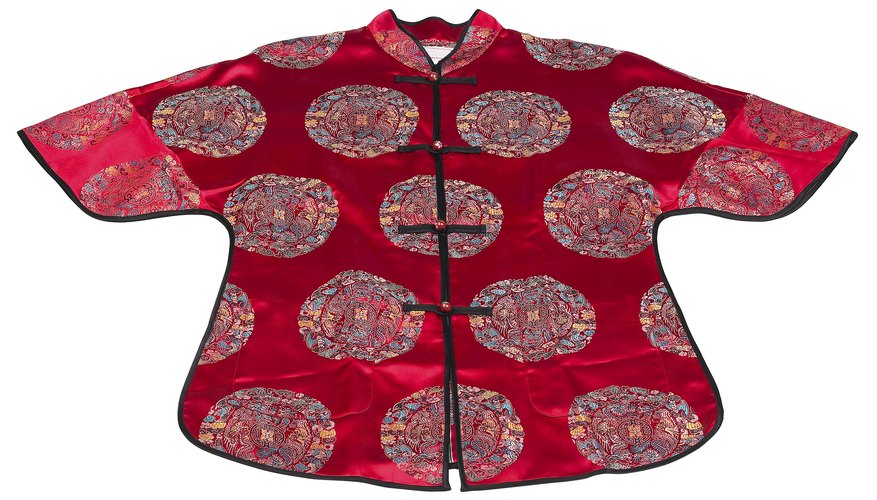 Hemera Technologies/PhotoObjects.net/Getty Images
The ancient Chinese believed that everything in nature evolved from the five basic elements of water, fire, wood, metal and earth. Each of these elements had a corresponding color. In addition to representing the element, each color symbolized characteristics of, or associated with, that element. Though the color-to-element relationship has remained constant throughout Chinese history, the importance given to a color changed from one dynasty to the next, particularly in relation to clothing.
The Elements of Color
Taoism, which formed about 550 B.C., initially recognized only black and white, representing yin and yang, the two opposite forces in nature. Gradually, the Five Element Theory developed as a fundamental belief of Taoism, and with it came the recognition of additional colors. The element-to-color relationships are water and black or blue-black; fire and red; wood and blue-green; metal and white; and earth and yellow.
Paint it Black
The Zhou Dynasty (1046 to 256 B.C.) placed high regard on the color red -- representing fire -- as its emperors believed fire to be stronger than gold. The emperor of the Qin Dynasty (221 to 206 B.C.) wanted to show his dynasty's superiority to the Zhou Dynasty that had preceded him. Qin emphasized the use of black, or water, to "extinguish" the fire of the Zhou Dynasty. Clothing and jewelry of the Qin Dynasty was predominantly black.
The Return of Red
The Han Dynasty (206 B.C. to 220 A.D.) continued the Qin Dynasty's use of dark clothing, but incorporated red. During the earlier years, or Western Han Dynasty, ordinary people wore red while court dress was black. Shoes were red in color. The clothing worn for sacrificial rites was black edged with red. In the later Eastern Han Dynasty, red symbolized the dynasty's "fire virtue" and became predominant. Court dress was red. Sacrificial rites called for a red-edged white layer under robes with red socks and shoes. However, the official dress for season-welcoming ceremonies was dictated by the Five Element Theory: gray-green for spring, red for summer, yellow for autumn and black for winter. White was worn by the lower classes.
Rank Defined by Color
The clothing of the Tang Dynasty is considered the most opulent and artistic in ancient Chinese history. Decoration became increasingly important, although color still was a distinguishing factor of an individual's rank in society. Since the Tang Dynasty, yellow has been symbolic of royalty because of its closeness to the color of gold. During the Tang Dynasty, ordinary people could not wear yellow. Purple signified court officials above the fifth rank, and purple borders on clothing were considered especially elegant. The wide belt became an important accessory during the Tang Dynasty. Green jade belts were worn by officials and generals higher than the third rank. Fourth- and fifth-rank officials wore gold belts. Officials of the sixth and seventh ranks wore silver belts.