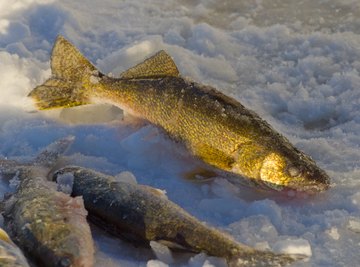 •••
SteveOehlenschlager/iStock/GettyImages
Walleyes are a freshwater fish that belong to the perch family. They are commonly found in the fresh waters of the U.S., Canada and Japan, although they have the ability to thrive in salt water should the need arise. Walleyes can live for up to 26 years, according to the "Knee Deep Club." Sexing walleyes is easiest in early spring, during spawning; a more thorough physical examination is required during off seasons.
Examine the size of your walleye. Females tend to grow faster and larger than males. They are considered fully grown at one year, giving you a more accurate idea of the sex of your fish.

Observe behaviors during spawning. Males will discharge a white fluid during early spring, a process known as "milting" that fertilizes laid eggs.

Examine the walleye's posterior. The anus on a male is circular while the anus of a female resembles a keyhole, and the female's will become larger once it is time for her to lay eggs.

Examine the weight of your walleye. A male will weigh less and look slimmer than a female, with a more streamlined appearance; female walleyes are rounder and plump.
References
About the Author
Sharin Griffin has been a freelance writer since 2009, specializing in health-related articles. She has worked in the health-care industry as a certified nursing assistant and medical technician. Griffin's medical expertise encompasses bariatrics and geriatric care, with an emphasis on general medicine. She is completing an associate degree in health-care administration from Axia University.