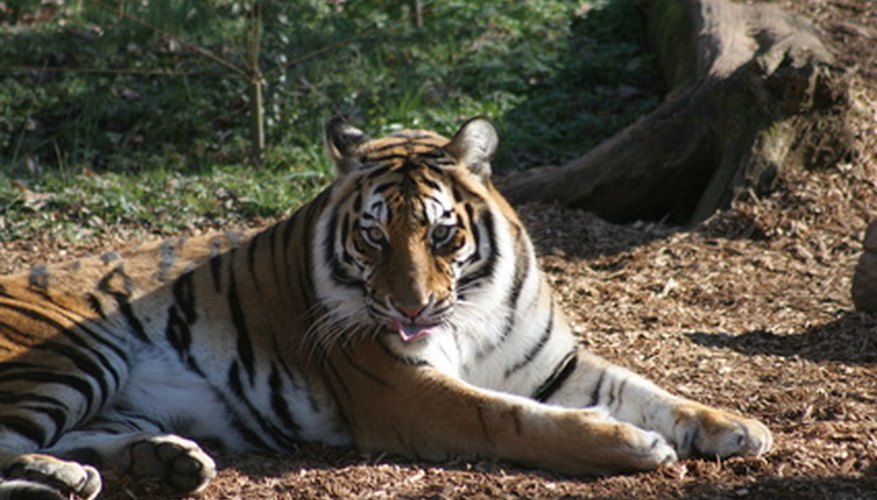 Tigers are normally solitary animals; because the males do not have the distinctive manes of lions, it can be difficult to tell male from female at a glance. Once they leave their mothers at about 1 1/2 to 2 years old, both male and female tigers establish their own territories and rarely form social groups, although females sometimes share territory with their mothers. You can't usually distinguish gender by social behavior when you see a wild tiger. There are ways to tell though, even if all you see are tiger paw prints.
Determine which subspecies the tiger is likely to be. In the wild, distribution maps indicate which subspecies inhabit which regions. In captivity, the information is available on a placard or from staff.
Calculate the size of the tiger by noting objects it is near and measuring them later. A photograph helps. Males are significantly bigger than females and the larger the subspecies, the larger the relative difference.
Look at the front paws. Male tigers have front paws relatively larger in comparison to their bodies than females. If you find tiger tracks, place the ruler beside them and take a photo for identification confirmation later. The prints left by the front paws are more distorted. Tracks from male tigers are larger and have rounder pads than tracks made by females.
Watch to see if there are any more tigers, their relative sizes and how they behave. Tiger cubs with one adult tiger indicate the adult is the mother. Courting behavior and mating occurs between a male and a female. Aggression or fighting is likely, although not necessarily, to be between two males.
Look at the tiger's genitalia using the binoculars. Like unaltered domestic cats, male tigers have obvious external testicles below the anus and females do not.