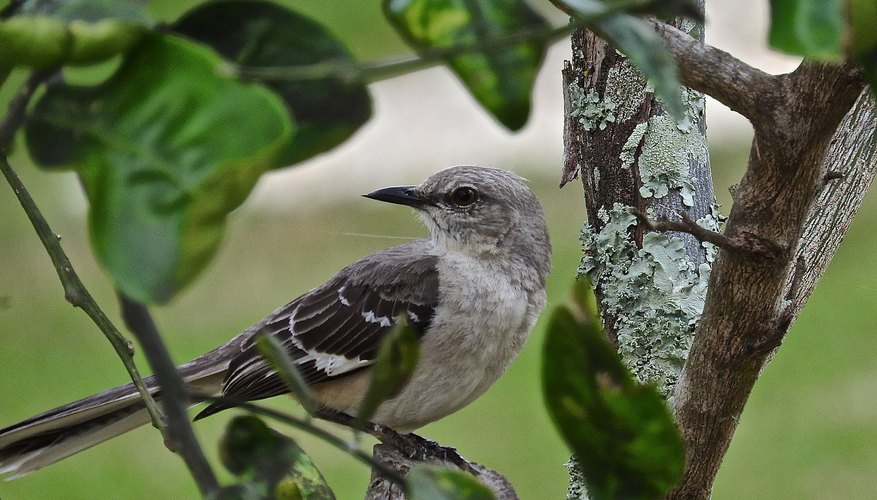 Mockingbirds, scientifically known as mimus polyglottis--Latin for "mimic of many tongues"--are sleek-looking black and gray birds with pale bellies and white bars on their wings and tails. They are gifted impersonators, and can imitate, or mock, the songs of other birds well enough to fool veteran birdwatchers. Their own song consists of repeated phrases and motifs, arranged much like a musical composition. Mockingbirds will threaten to attack dogs, cats and people that they perceive as a threat to their nests, dive-bombing within inches of their targets, but rarely doing any actual harm. Because they have almost identical coloration, male and female mockingbirds are difficult to tell apart. But there are several visual and behavioral cues that may help you to distinguish them.
Identify a pair of mated mockingbirds. You will see them staying close to each other, and possibly hear them softly calling "hew-hew"--a sound that they make only to their mates--back and forth to each other. The male is larger, and displays bigger bars of white.
Observe their nest. A mockingbird that sits motionless on the nest for a long time is the female. Although both parents feed the hatchlings, only the female incubates the eggs.
Listen for a mockingbird singing in the middle of the night in the summer months, especially during a full moon. You've just heard a frustrated bachelor mockingbird, which is still trying to attract a female at this late date. Since female mockingbirds can lay two clutches of eggs before winter arrives, his hope may not be in vain. Females almost never sing in the summer, and never at night. Their time for song is the fall.
Look up at utility poles, telephone lines and tall trees when you hear a mockingbird. Sitting in very high places and singing enthusiastic solos is male mockingbird behavior.
Approach the mockingbirds' breeding area for the definitive method of identifying a male mockingbird. Both parents will scold you with a harsh, metallic "chewp!' sound. But while the female limits herself to one sharp cry, the male will repeat it half a dozen times.
TL;DR (Too Long; Didn't Read)
Attract mockingbirds to your yard by growing fruit trees and mulberries, hawthorns and blackberries.
If the song of a lonely male mockingbird keeps you up at night, play a recording of a blue jay, or another male mockingbird, to send him on his way.