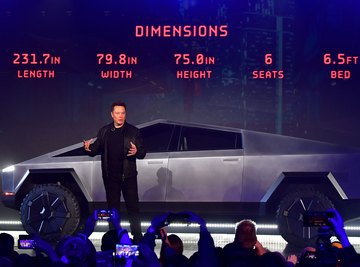 •••
FREDERIC J. BROWN/AFP/GettyImages
Elon Musk debuted Tesla's Cybertruck last week, and reactions ranged from "that looks like a picture I drew of a truck on my social studies homework in fourth grade" to "I'm preordering the car of the future right now."
The company claims the ... futuristic? ... looking truck has "better utility than a truck with more performance than a sports car," an impressive claim for an all-electric vehicle. They also note it could have incredible aerodynamics, will have a solar-charging option, way more speed than other electric vehicles and a stainless steel exterior that Musk promises to be tough as nails.
Why The Skepticism?
One reason is that the Cybertruck didn't exactly live up to all its hype during its big unveiling. Elon Musk bragged that its windows could handle the impact of a metal ball being thrown at it.
In a memorable moment that seemed uncharacteristically unscripted, Musk had a designer toss a metal ball at one of the truck's windows, claiming it could withstand the impact. The ball shattered the glass, although it didn't end up making a total hole that it could crash through. A seemingly rattled Musk swore, laughed and asked him to try again, and the skeptical engineer did ... to the same results. Musk smiled and noted there was "room for improvement."
Social media networks lit up with playful jabs at the mishap, and even BMW couldn't resist getting in on the fun with a little quip about one of their cars being protected against stray metal balls.
Other critics note that with missing elements including wheels and wipers, the truck doesn't seem finished, and questioned whether the final version will even resemble the one Musk unveiled last week. That could mean those hundreds of thousands of people who quickly forked over a $100 deposit won't plunk down the at least $40,000 required to purchase the fully formed truck in 2022 (if it exists at that point).
An Electric Future
Plus, while the Cybertruck is the one getting all the buzz thanks to its strange looks and botched window demonstration, Tesla isn't the only company working on an electric truck. Ford reportedly has (a more recognizable) one that could be here as early as 2021, and GM might be serving up something, too.
That's great news for the people who are hoping that electric and hybrid vehicles can help mitigate the effects of the climate crisis by minimizing the toxic emissions that cars put into our atmosphere.
The best course of action in the beginning of the electric car future? Figure out the best ways you can integrate public transportation, carpooling and green transportation like biking into your daily life. Oh, and don't throw a metal ball at any windows.
About the Author
Rachelle Dragani is a freelance writer based in Brooklyn with extensive experience covering the latest innovation and development in the world of science. Her pieces on topics including DNA sequencing, tissue engineering and stem cell advances have been featured in publications including BioTechniques: the International Journal of Life Science Methods, Popular Mechanics, Futurism and Gizmodo.