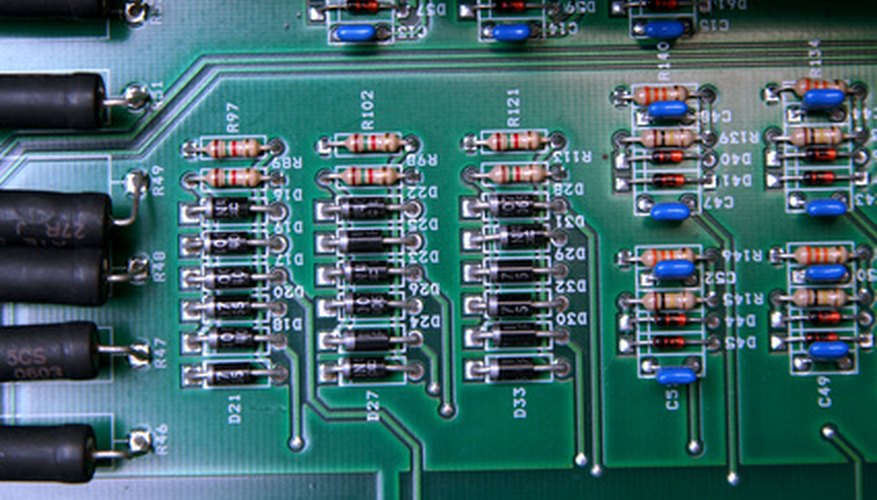 Diode rectifiers are basic electronic components designed to conduct electrical current in only one direction. Every diode, however, has a Peak Inverse Voltage (PIV) rating — if you try to force current the wrong way at a voltage higher than this rating, you will destroy the diode. If this happens, the circuit that used the diode will stop working. Fortunately, you can test diodes easily if you have a multimeter. A working diode will exhibit low resistance measured in one direction, and high resistance in the other.
Turn off power to the circuit and wait a few minutes before moving to the next step.
Remove one of the diode's leads from the circuit by desoldering it. Heat the solder pad and connection with a soldering iron. Carefully work the lead free from the circuit with long-nosed pliers.
Turn the multimeter on and set it to read resistance. Examine the body of the diode; you should see a stripe or other mark on it. The lead nearer the stripe is the diode's cathode.
Touch the black (negative) multimeter probe to the cathode lead and the red (positive) probe to the other lead. The diode should read a low but nonzero resistance. Reverse the probes so the red probe touches the cathode and the black touches the anode. You should now read a much higher resistance. If you read nearly the same resistance both ways, the diode is bad. If the diode passes the resistance test, resolder the lead back into the circuit.