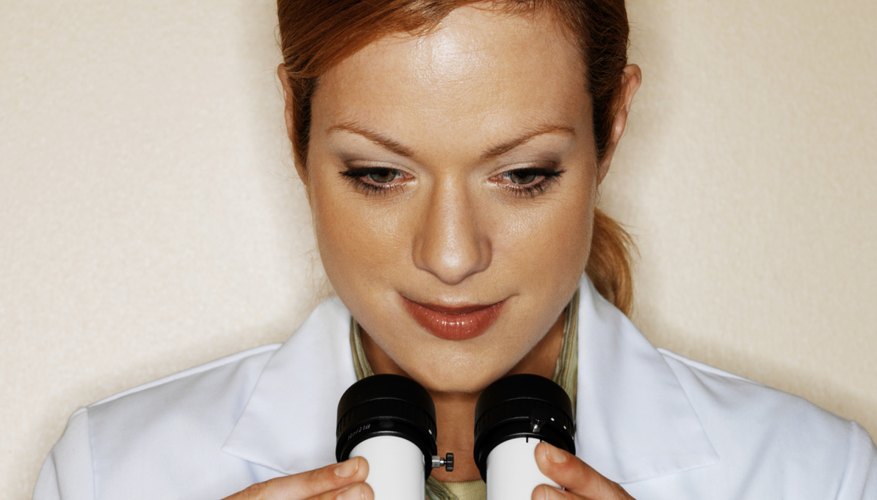 George Doyle/Stockbyte/Getty Images
The endoplasmic reticulum, or ER, is a sac-filled organelle found in most eukaryotic cells -- that is, in cells with organized nuclei. ER can be smooth or rough. The smooth ER plays an active role in the synthesis, storage and secretion of lipids, or fats, and lipoproteins. Rough ER is studded with ribosomes and supports protein synthesis. The testes, which are the male gonads in animals, secrete lipid-containing hormones via smooth ER.
Endoplasmic Reticulum
The sacs and tubules of the ER are enclosed in a membrane that it shares with the cell nucleus. It is the largest organelle found in eukaryotic cells, and it accounts for about half of a cell's membranes. The space enclosed within the ER, known as the lumen, occupies up to 10 percent of the cell's volume. The cell membranes are largely composed of lipids bound to phosphorous groups. The ER manufactures these phospholipids, as well as the lipids cholesterol and ceramide and their derivatives.
Testes
The testes play a prominent role in the reproductive and endocrine systems of most vertebrates. They are housed in the scrotal sac and are the site of sperm production. The testes also produce male hormones, including testosterone and other androgens. The pituitary gland produces a substance, luteinizing hormone, that stimulates the testes to produce testosterone, which is required for sperm production. The testes have specialized cells, the Leydig cells, that contain large amounts of smooth ER. These are the cells responsible for the production of testosterone.
Leydig Cells
Leydig cells reside near the testes' seminiferous tubules, which are responsible for the production of spermatozoa. Leydig cells convert the lipid cholesterol into testosterone through a series of chemical reactions. In humans, the smooth ER stores an enzyme that participates in the chemical pathway that results in testosterone. The Leydig cells' smooth ER provides the environment in which enzymes can complete the synthesis of testosterone. The smooth ER packages the newly synthesized testosterone in vesicles that bud from the ER.
Testosterone Export
The smooth ER vesicles first move their cargo of testosterone molecules to a storage compartment shared by the ER and the Golgi apparatus, another cell organelle. From there, the vesicles enter the Golgi apparatus, where they are temporarily stored in various compartments before the cell exports the testosterone. Some of the testosterone is taken up by the seminiferous tubules and drives sperm production. Other hormones secreted by the smooth ER in testes cells include androstenedione and dehydroepiandrosterone. Leydig ER is not entirely smooth, meaning that these cells have some bound ribosomes that can synthesize certain proteins for export or for incorporation into the cell's membrane.