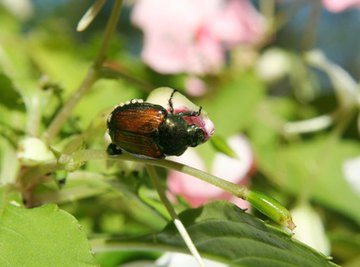 •••
Japanese Beetle image by Jim Mills from Fotolia.com
More and more people in the United States and other countries struggle with Japanese Beetles. First found in the United States over 80 years ago, Japanese Beetles today environmentally damage grasses and plants in both their larval and adult stages. They feature a blue/green or brown/silver color, and appear metallic with their shiny appearance. They do not pose a big problem in their native Japan because of natural predators. However, they cause more problems in other countries because these predators are not as prevalent.
Grass
Japanese beetles eat the roots of the grass, killing them over time. In addition to the environmental effects, it costs the United States alone around $234 million per year from turf replacement and control efforts of Japanese beetle larva. If you find large brown spots on turf grass and can pull large clumps of grass out of the ground, you likely have Japanese beetle larva present.
Plants and Trees
Various plants can be damaged by Japanese beetles, but for the most part the damage is more cosmetic than permanent. Look for plants and trees which have leaves eaten, with only veins remaining. This an indicator of adult Japanese beetle presence. Trees also can look bad from Japanese beetle infestation, but usually survive.
Fruit
Japanese beetles especially like apple, plum, apricot, cherry and peach tree fruit. They can destroy all the fruit from a tree or orchard if untreated. Large holes in fruit indicates the possible presence of the Japanese beetle.
Chemical Treatment
Scientists increasingly are expressing concerns that chemical treatment methods to control Japanese beetles may also harm the environment. Pesticide runoff into water systems and the resulting physical hazards to humans and wildlife have caused many to advocate biological methods to control the beetle. They work slower than chemical treatments, but last longer in the environment and are safer. Homeowners can introduce natural predators to the Japanese beetle, as one example. Nematodes can be purchased at lawn and garden shops. These microscopic parasite roundworms actively search out Japanese beetle grubs in the soil.
References
About the Author
Greg Stone began writing professionally for various websites in September of 2010. He lives in Branson, Mo. and is the marketing director for Doulos Discipleship of Doulos Ministries. Stone holds a Bachelor of Science in journalism from Central Missouri University and a Master of Ministry from John Brown University.
Photo Credits