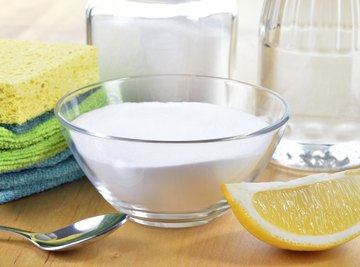 •••
Geo-grafika/iStock/Getty Images
Extraction is one of the more common procedures in organic chemistry, and it's often performed to remove an organic solvent from water. In order to effect the extraction, the two solvents must be immiscible, which means that neither dissolves in the other. They then form two layers -- an organic layer and an aqueous (water-based) one that can be separated mechanically. Washing the organic layer with sodium carbonate helps separate it from the aqueous solution. Methylene chloride, which is a component of paint strippers, is one compound that is often isolated using this method.
Removing Alkaline Material
Sometimes the organic layer, when derived from an acidic solution, should be washed with sodium carbonate, which is a base. A salt is formed in this reaction that is soluble in water and will be flushed out with the aqueous phase.
Keeping the Two Layers Separate
Washing the organic layer with sodium carbonate helps to decrease the solubility of the organic layer into the aqueous layer. This allows the organic layer to be separated more easily.
Separating a Homogenous Mixture
If the organic and aqueous layer are in a homogenous mixture (one in which the solvents are uniformly dispersed), then sodium carbonate can be effective in separating the two layers.
References
About the Author
Martin Williams is a freelance writer and blogger who has written for his own blog and various other websites. Williams has a bachelor's degree in biology from Norfolk State University. His writing specializes in sports and politics.
Photo Credits
Geo-grafika/iStock/Getty Images