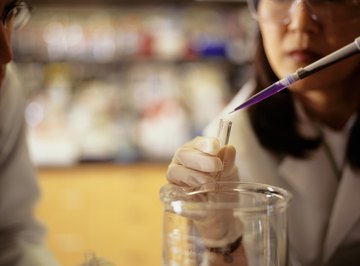 •••
Ryan McVay/Photodisc/Getty Images
An experimental science project seeks to systematically -- meaning in a fair and step-by-step way -- answer a question about how something works, how things are related or the effect of one thing on another. A science project should have six steps. (1) It begins with a question to be answered, which forms a hypothesis that can be tested. (2) Background information about the project must be provided. (3) The methods used in the experiment must be described. (4) The results of the experiments must be presented in an organized fashion. (5) A conclusion is made about whether the question of interest was answered. (6) Last comes a discussion about the results and conclusion that puts them into the context of what has already been discovered by others. All six parts of a project are summarized in a short paragraph called an abstract.
The Question and the Reasons
Science projects begin with a question about how something works or how things are related to each other. A hypothesis is an educated guess in the form of a claim that can be tested, and such a claim makes most sense to others when they understand the context in which the question is being asked. This is why you must provide background information. Background information explains what you are trying to solve, why you chose your methods and why your question is interesting.
How Was It Done?
Science is considered a reliable means of understanding the world because it seeks to provide answers that are reliable. Therefore, results from experiments should be reproducible. The methods section of a science project is important because it allows other people to repeat your experiment. It may also help you and others later in seeking to understand why your experiment didn't work or why -- in hindsight -- your question could not be tested. The methods section lists the step-by-step "recipe" you used to test your hypothesis -- what you used and how you used it.
What Were the Results?
After you have finished performing your experiment, you need to gather all your data and organize them in a way that is easily understandable. The results section contains the answer to your research question. Data can be organized in the form of tables and graphs. Data tables show relationships between two or more things. Graphs are also effective ways of showing numerical relationships among factors or conditions in an experiment.
What Is the Answer?
The conclusion summarizes the results and states the answer to the question that came from testing the hypothesis. A conclusion is a statement of the answer to your question, but often goes along with what is called the discussion section of a project. The discussion section talks about whether your question was answered, and if it was, how it was. If your data is conclusive, the discussion talks about why that was the case. The discussion also puts your data within the context of other knowledge that is already out there, which helps the reader understand what contribution your project has made to the larger body of knowledge.
References
About the Author
David H. Nguyen holds a PhD and is a cancer biologist and science writer. His specialty is tumor biology. He also has a strong interest in the deep intersections between social injustice and cancer health disparities, which particularly affect ethnic minorities and enslaved peoples. He is author of the Kindle eBook "Tips of Surviving Graduate & Professional School."
Photo Credits
Ryan McVay/Photodisc/Getty Images