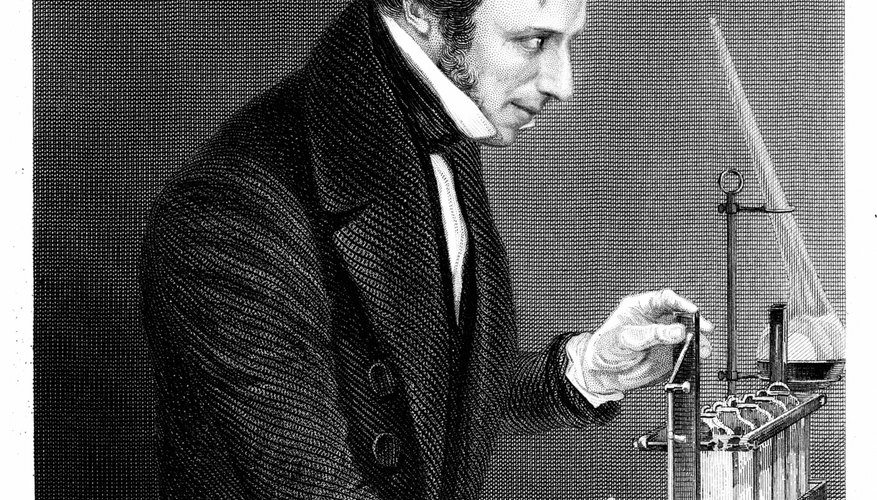 Photos.com/Photos.com/Getty Images
He may not be a household name, but chances are you've benefited from the work of English scientist Michael Faraday. Faraday's discoveries make it possible, among other things, to use an electric toothbrush and cook without fire. His contributions to physics and chemistry continue to influence our daily lives.
Faraday's Law of Induction
In 1931, Faraday discovered electromagnetic induction by spinning a coil of wire around a magnet to produce a steady current. Faraday's law of induction explains how voltage is generated by the interaction of a magnetic field and an electrical circuit. This is the principle behind inventions such as the electric motor, generator and transformer. Washing and drying machines, electric chargers and electric cookers all use Faraday's concept of induction.
Contributions to Physics and Chemistry
Faraday discovered that electrolysis occurs when an electric current is passed through a substance to cause a chemical change. His laws of electrolysis are used to express magnitude of the effects of electrolysis. Faraday also invented a primitive version of the ubiquitous Bunsen burner, a lab instrument that produces a concentrated gas flame. The Faraday cage, a metallic enclosure that protects its contents by canceling electric charge inside, is another invention that bears his name. A car protects you from lightning by acting as a Faraday cage – the charge is conducted along the metal exterior but does not enter the vehicle.