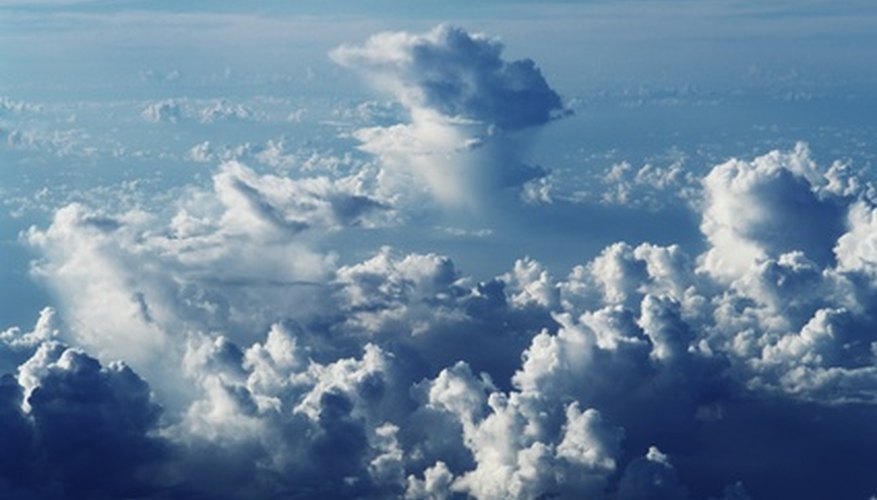 Clouds are classified by their altitudes and their appearance, and their names include a Latin description and an indication of their altitude. The names include stratus which is Latin for layer, cirrus which is Latin for curl of hair, nimbus which is Latin for rain and cumulus which is Latin for heap. The principal classification is by altitude: low altitude, middle altitude and high altitude. A fourth classification, clouds with vertical development, takes in all three altitude levels.
Low Altitude Clouds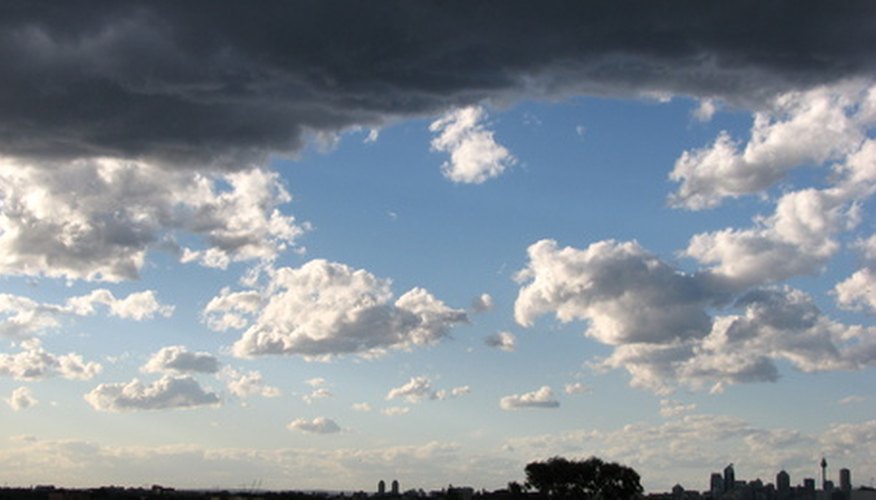 Clouds found in the low altitude range are indicated by the prefix "strato" or by the suffix "stratus." Their bases are below 2,000 meters (6500 feet) in altitude, and except in cold weather when they can contain ice and snow, they are composed of water droplets. Three types of low altitude clouds are stratus, stratocumulus and nimbostratus.
Stratus clouds are gray clouds that often cover the entire sky. They usually do not produce precipitation beyond mist or drizzle. Their appearance has been likened to fog that doesn't reach the ground.
Stratocumulus clouds are also gray, but instead of covering the sky they are lumpy and may form rows. Like stratus clouds, they normally only produce drizzle and mist.
Nimbostratus clouds are low, dark clouds that produce light to moderate precipitation. They can also cover the entire sky, but if their edges are visible they have a ragged appearance.
Two other important cloud forms that have a base below 2000 meters are the cumulus and cumulonimbus clouds. Even though they have low altitude bases, they are not classified as low-level because they may develop with tops as high as 13,000 meters (42,650 feet). Classified as clouds with vertical development, cumulus clouds are puffy white clouds that may or may not produce precipitation. Cumulonimbus clouds are the large clouds associated with thunderstorms and tornados.
Middle Altitude Clouds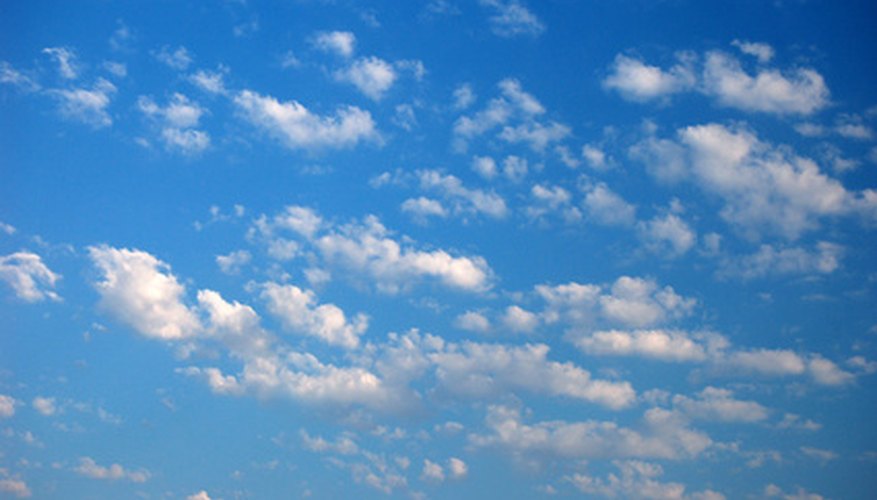 Clouds found in the middle altitudes are designated by the prefix "alto." The bases of middle altitude clouds are found between 2000 and 7000 meters (6500 to 23,000 feet). They are composed of water droplets and/or ice crystals. There are two types of middle altitude clouds: altocumulus and altostratus.
Altocumulus clouds can appear either as rounded clumps or parallel bands. They are white but are usually partially shaded. They often form in advance of a cold front and their formation in the morning is often followed by afternoon thunderstorms.
Altostratus clouds are gray and usually cover the whole sky. If the sun or moon is visible through the cloud, they will appear blurred or fuzzy. Like altocumulus clouds, they often precede storms producing rain and snow showers.
High Altitude Cloud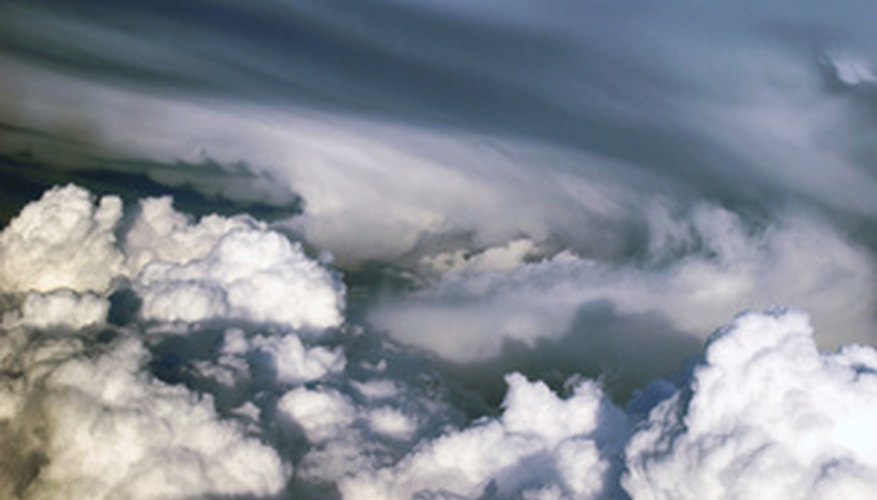 Clouds found in the high altitudes are designated by the prefix "cirro." The bases of high altitude clouds are found above 6000 meters (23,000 feet). They are composed primarily of ice crystals. There are three types of high altitude clouds: cirrus, cirrocumulus and cirrostratus.
Cirrus clouds are wispy white clouds sometimes called mare's tails because of their hair-like appearance. They form in fair weather and the strands point in the direction of the wind at their height.
Cirrocumulus clouds are white or gray and are round and puffy. They form in long rows, usually in cold weather, and are an indication of fair, cold weather.
Cirrostratus clouds are thin clouds that often cover the entire sky. The sun or moon can be seen through them, and the ice crystals in the clouds can cause the appearance of a halo around either. When they form, rain or snow often follow within 24 hours.