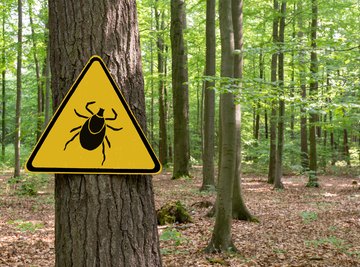 •••
gabort71/iStock/GettyImages
For years, doctors have known that a bite from the Lone Star tick may cause some people to develop a serious allergy to red meat. Now, researchers at the University of Virginia have learned more about this unusual allergy, and they hope the study will lead to better treatments in the future.
Ticks and Red Meat Allergies
If a Lone Star tick bites a person, galactose-alpha-1,3-galactose (alpha-gal) may enter the person's body from the tick's saliva. Alpha-gal is a sugar molecule, and some people have an immune response to it that becomes an allergic reaction. According to the Mayo Clinic, the "Lone Star tick is found predominantly in the southeastern United States."
However, the Centers for Disease Control and Prevention mentions the condition is also common in the Midwestern parts of the country. The Lone Star tick seems to be spreading north and west over time. The American Academy of Allergy, Asthma & Immunology (AAAAI) shares that this allergy is a growing problem.
When people develop an allergy to alpha-gal, they have to eliminate red meat because this sugar molecule is in most mammals but not found in humans. This means they can't eat beef, pork, sheep, rabbit, lamb or venison. Since birds and fish don't have alpha-gal, they can continue to eat them. Alpha-gal can appear in other products, such as medications and milk, so someone with this allergy has to be careful.
Serious Allergic Reactions
If you have an alpha-gal allergy and eat red meat, you may develop a serious allergic reaction. Symptoms can include hives, runny nose, headaches, vomiting, nausea, swelling, shortness of breath and stomach pain. Some people may have anaphylaxis, which is a life-threatening reaction that requires immediate medical care.
The American College of Allergy, Asthma & Immunology (ACAAI) explains that it may take several hours for an allergic reaction to appear, so this delay makes it difficult to connect eating red meat with the symptoms. This is why the ACAAI recommends an "expert evaluation from an allergist familiar with the condition" for diagnosis. The reason for the delayed reaction may have to do with how long it takes to digest meat, or it may be because the immune response is slower for sugars than proteins.
New Research Offers Hope
Until recently, researchers struggled to understand why someone would develop a red meat allergy after a tick bite. Although there are still many questions, a new study from the University of Virginia is starting to unravel the mystery of this condition.
"We don't know what it is about the tick bite that causes the meat allergy. And, in particular, we haven't really understood the source of immune cells that produce the antibodies that cause the allergic reactions," Loren Erickson told UVAToday.
Erickson and his team published an article recently about their research on the Lone Star tick. They discovered that people with the allergy have B cells, a type of immune cell. B cells are white blood cells that make the antibodies, which cause the allergic reaction. The team also created a mouse model to continue studying the condition.
In Search of More Answers
Despite the advances in research, people with an alpha-gal allergy don't have any real treatments right now. They must avoid eating red meat and carry an epinephrine auto-injector (EpiPen). There is no way to prevent or cure this condition.
Many questions remain about the Lone Star tick and red meat allergies. First, why do some people develop the allergy while others are fine? Second, are there bacteria or viruses from the ticks that are also affecting people and causing the allergy? Third, why do B cells make the antibody for alpha-gal, and how can they be stopped safely?
References
About the Author
Lana Bandoim is a freelance writer and editor. She has a Bachelor of Science degree in biology and chemistry from Butler University. Her work has appeared on Forbes, Yahoo! News, Business Insider, Lifescript, Healthline and many other publications. She has been a judge for the Scholastic Writing Awards from the Alliance for Young Artists & Writers. She has also been nominated for a Best Shortform Science Writing award by the Best Shortform Science Writing Project.